Canada's National Tower or CN Tower is by far one of the top attractions in Toronto. One can enjoy the beautiful view of the city from up to, taking in Toronto and deciding where to head next. For those of you who have visited the tower, the adrenaline pumping experience of standing on transparent glass and looking down is no stranger. I remember feeling like I was falling, as my brain couldn't quite put together the fact that I was not actually rushing towards the ground with the illusion that there was nothing to hold me up in the air.
If you thought that was thrilling and a bit scary, just wait to try the new Toronto experience the CN Tower has announced: Â EdgeWalk at the CN Tower. A first on the North American continent, EdgeWalk is the highest full circle hands-free walk in the world. You are basically walking on a 1.5 meter ledge around the top of the tower's main pod which is 356 meters up in the air (that's about 116 stories). The new thrill walk will be available starting this summer.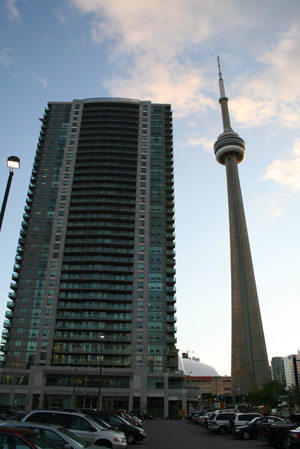 "We think it's fitting that Toronto's newest attraction in 18 years should be at the city's most defining landmark," said Mark Laroche, President and CEO, Canada Lands Company, Owner and Operator of the CN Tower. "EdgeWalk is both thrilling and unique and will push visitors to their limits – literally and figuratively. This will be among Toronto's, if not the world's, greatest attractions."
Groups of six to eight tourists will walk the ledge hands-free. They will be attached to an overhead safety rail featuring a trolley and harness system. The trained guides will give you the boost you need to push your limits and if you have the guts, you'll be leaning back over Toronto and have nothing but air beneath you.