Spring is coming! Winter may be your favorite time of year if you enjoy skiing or snowboarding. But if you prefer hitting the open road on a Harley or Yamaha, the winter months can't get over soon enough. 2013 is already flying by and motorcyclists everywhere are looking forward to a great year of rallies celebrating motorcycle culture. Here are a few rallies and events across America that congregate thousands of motorcycle riders and enthusiasts.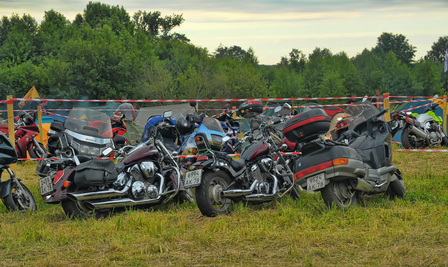 Arizona Bike Week Scottsdale, AZ
April 10th-14th
There's something deeply satisfying about roaring through the desert atop a chopper, surrounded by sprawls of cacti and mountainous terrain. Traverse Arizona's Sonoran Desert by bike in the days leading up to the rally. That rally is Cyclefest at WestWorld, which bringing the top motorcycle manufacturers together under the same desert sky. Harley-Davidson and Kawasaki are bringing their latest machines to grant attendees special demo rides. Prestigious builders and vendors will show off the latest Yamaha motorcycle parts, motorcycle accessories and apparel.
The lifeblood of Bike Week centers on the Handlebar Saloon, a Cyclefest exclusive 27,000 square foot tent housing a multitude of activities, parties and nightly concerts. Previous bands that have graced the stage include Kansas, REO Speedwagon and Grand Funk Railroadthe 2013 rock lineup won't disappoint.
Angel City 8th Annual Spring Rally Unadilla, GA
April 17th-21st
Angel City is a rugged Old West styled biker town built in celebration of two-wheeled steel horses and the folks who ride them. Bike builders from across the U.S. flock to Angel City in the latter half of April to flaunt their machines of venerable repute. Rally goers can participate in wild burnout pits, bike games and witness high-velocity bike shows. Southern-style parties are launched at the town's two saloons while guests enjoy live music, a wet T-shirt contest and peruse the wares of the rally's many vendors. Many attendees set up tents at the campsites or park at RV sites during the four day rally, so sign up now to assure your space.
Ohio Bike Week Sandusky, OH
May 31st-June 9th
Located along the Lake Erie shores, Ohio Bike Week is the Midwest's largest rally, a premier 10-day event packed with the stuff of bikers' dreams. Ohio Bike Week attendees can look forward to motorcycle displays, moto-cross races, ride-in bike shows, national act concertsand that's only the tip of the iceberg. Bike Week culminates in the All Harley Drag Racing Association (AHDRA) nationals on June 8th and 9th in Norwalk. These drag races assure high-octane excitement with Harleys traveling in excess of 230 mph. Every ticket includes pit access for a closeup peak at the wicked-fast Harleys and time to meet the racers.
[adsense]
Republic of Texas Biker Rally Austin, TX
June 13th-16th
Held at the Travis County Exposition Center, the four day all-things-motorcycle event draws hundreds of thousands of attendees from the Lone Star State and beyond. The varied array of attractions include the World Famous Wall of Death motorcycle stunt show, custom bike builders, comedians and hundreds of distributors and vendors. ROT's concerts gather the A-list lineup you'd expect from the live music capital of the world. Past talent includes big names like Willie Nelson, Joan Jett and Bret Michaels. The city closes off 54 square blocks of downtown Austin for the largest biker party in any metropolitan city, summoning over 200,000 spectators. The ROT Rally's Friday night parade was named the Longest Parade of Motorcycles in the Guinness Book of World Records.
Article by Marcus Freidman
Marcus went to a vocational school where he learned about cars and computers. He is now an engineer for sports car computers and loves to write about the latest trends in automobiles.