Traveling is so different than it used to be, even just 20 years ago. All the modern technology that we now have available certainly makes traveling much easier and entertaining. We have become so accustomed and spoiled that we can hardly remember how traveling used to be. Here are some great gadgets that just continue to make life easier.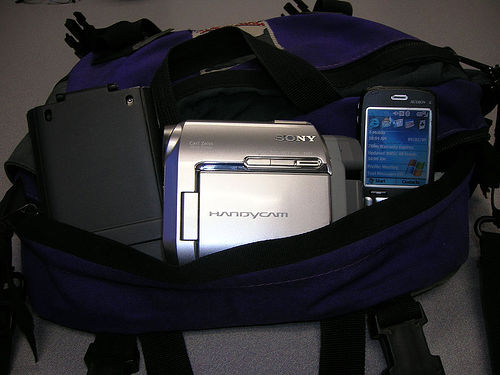 iPhone 4 — Verizon Wireless
My number one absolute necessity for traveling is having a phone and in my opinion one of the best phones out there is the iPhone. The new iPhone 4 with the Verizon wireless service is even better than the AT&T version. The Verizon version of this device has two significant upgrades: the antenna is located near the top to provide better reception and it can create an external Wi-Fi hotspot to get up to five computers online. This plus, of course, all the other great features and apps that are available with the iPhone make this a winning combination.
iPower — Solar Charger
Now that we have the iPhone on board during our travels we need a reliable charger. The iPower from Mi SUNY is a solar iPhone charger. The iPhone is inserted into the iPower  sleeve and when exposed to sunlight it draws energy through the solar panel that is converted into electricity. Two hours of direct solar exposure gives about 30 minutes of talk time, for a full charge it can take up to eight hours. And when you need a quick charge you can charge through its USB port.
Walkin' Bag
How about this great gadget, it's a chair, it's a desk, and it's luggage. This carry-on bag converts into a desk so that you can start working on your next project while waiting for your flight. Or you can unfold the seat and relax while you wait around at airports. This bag also comes with four wheels so that it is easily and quickly pulled through the airport terminals.  The sturdy frame can hold up to 300 pounds.
Fujifilm FinePix XP30 Camera
This is a 14 megapixel point and shoot camera that is shockproof, waterproof, and rustproof.  So it's ready for any type of travel. The camera features a powerful sensor that allows taking pictures in all kinds of light. It also features an image stabilization to enable a clear shot even if your subject is moving around. In addition, it has a built-in GPS device for tagging your photos and pinpointing exactly where the picture was taken. This feature will enable you to easily search or Google map the route of your travels.
iType Wireless Portable Keyboard
This portable mini wireless QWERTY keyboard connects to mobile devices and tablets via Bluetooth. It works on iPad, iPhone, BlackBerry, Android, PlayStation 3, and other mobile devices. This reduced size keyboard includes a leather carrying case and a stand to place your device. The iType will run for up to 80 hours on a single charge so you won't have to worry about running out of juice during a flight.
These top travel gadgets will certainly keep any traveler connected, rested, and entertained. Making these gadgets the ones you won't one leave home without!
About the author
Article written by Ben who works for Catalan Adventures — a travel company specialising in Walking Holidays in Europe. They also offer cycling, adventure and painting holidays in the Catalan region of Spain, Europe.