According to our calendars we're only two weeks away from the start of the winter. Of course this doesn't mean that some of the best winter resorts aren't already expecting guests on their snow filled tracks and courses. Today I'm going to guide you through another set of popular snowboarding parks and locations in Europe, to continue last week's recommendations. Also, if you like skiing more, make sure you check out our top 3 ski resorts recommendations.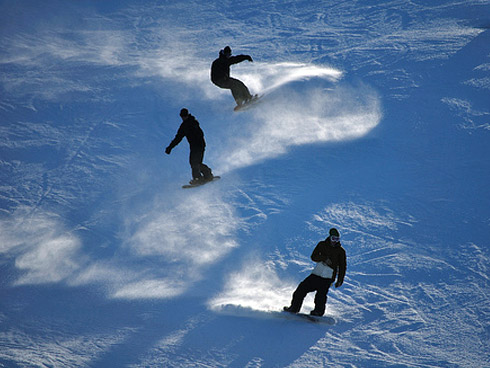 Photo by visuallight
Davos, Switzerland
Altitude: 1,560 m (5,118 ft)
Weather: From November till March daily means vary between -9.6 and -1 °C
Recommended for: Freestyle & Freeride
Website: http://www.davos.ch
Home of the second largest winter resort in Switzerland, but probably the best overall in terms of freeride options and terrain parks, Davos is the highest city in Europe. The amazing variety this resort has to offer through its six regions covers everything, from families and amateurs to advanced and pros alike, but most certainly, snowboarders will feel best on Jakobshorn where they will benefit from half pipes, fun parks and also excellent off-piste options to explore if freeride is your poison.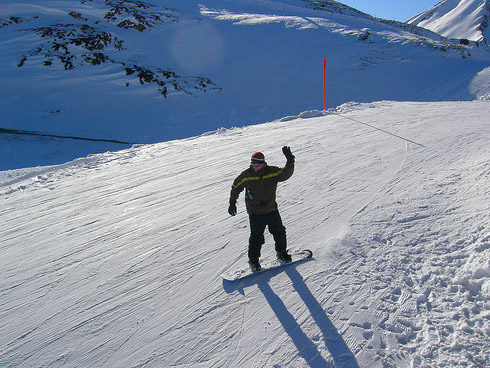 Photo by ciukes
Serre Chevalier, France
Altitude: 1,200 -2,800 m (3,937 — 9,186 ft)
Recommended for: Freestyle & Freeride
Website: http://www.serre-chevalier.com
One of the most popular winter resorts in France and Western Europe, Serre Chevalier, or Serre Che as returning visitors prefer to call it, offers a whooping 250 km of runs for beginners, intermediate and advanced riders alike. The highest snowboarding and ski point is at 2,800 m elevation, while the lowest is at 1,200 m. Due to an amazing investment in this area of 50 million Euros, Serre Chevalier has managed to attract over 1.3 million visitors per year. With such high numbers it's obvious it has become a huge attraction and thus prices are above the average and also, snowboarding fans are certain to bump into a lot of skiers. If you don't mind that, you're bound to have tons of fun in its parks, on the two half pipes and throughout the off-piste tree runs.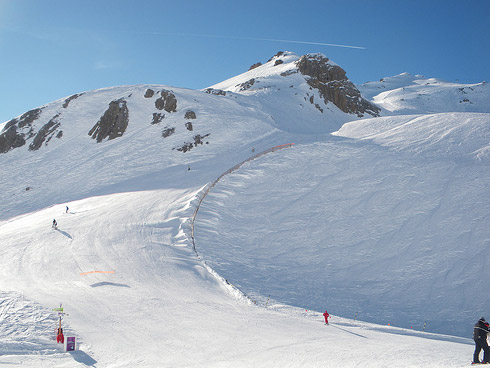 Photo by Dave Alter
Ischgl, Austria
Altitude: 1,377 m (4518 ft)
Weather: From November until March daily averages of 2 °C
Recommended for: Freestyle & Freeride
Website: http://www.ischgl.com
Located in the Tyrolean Alps, no more than 110 km away from Innsbruck and the airport there, Ischgl is one of Austria's most beautiful and well maintained winter resorts offering 41 super fast cable cars and lifts which give access to 238 km of pistes. The season starts early, at the end of November and most usually lasts until May. While you're not running the pistes and off-piste tree runs you'll have the option of having some fun in a well designed snowboarding park or participate in one of the multitude of winter events, celebrations and concerts that the community often organizes.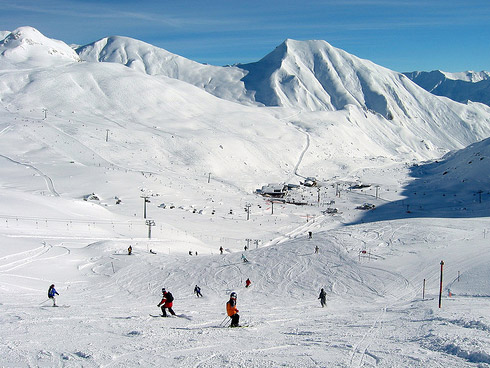 Photo by Leo-set
Now that you have all these amazing options, it's time to get your equipment out and ready, book a hotel in one of these winter resorts and start your snowboarding vacation as soon as the season sets off.
Liked the post? Why not Pin it?