Guest post by Corina Manea
Several years ago I visited Halkidiki (Northern Greece) and fell in love with the country, the people and the famous diet as well. I promised myself I would go back to Greece someday. Until recently it seemed this dream was not going to happen anytime soon. But then it did. A few days ago I had the chance to come back to Greece, this time for a short visit to Heraklion, the capital of the Island of Crete.
After landing at Heraklion International Airport "Nikos Kazantzakis"- the second busiest airport in Greece – I took a taxi to the hotel and though, the hotel was relatively close (at 3.5 kilometers away from the airport), I asked the driver to give me a little tour of the city, population about 180,000. Now I am so glad I did, because during the drive I got the chance to get to know more about Crete's biggest treasure, her people. 
For starters, my "typical" middle–aged proud Cretan taxi driver took me through the narrow crowded streets and, from the window of my cab, I could see the traditional Greek houses with blue windows and red flowers, big dark blue doors and smiling people waving at the tourists while going about their "day to day" shores. Yes, Crete has no shortage of tourists, but somehow everybody seems blended into the general fabric of this place. I did ask my friendly (and oh so talkative) driver if the city was usually so busy and restless. In answer, he proudly replied it was a special occasion: "Crete is celebrating 100 years since its union with Greece", accordingly this week's festivities include preparing the first sailing regatta (sea route) of its kind – the Cretan Union Cup regatta – a new festival celebrating Crete's thousands of year's of seafaring tradition too. According to my taxi driver (turned tour guide), this and other recent events make a wonderful opportunity for the whole community to be involved in the celebratory atmosphere this year. "From citizens to businesses, everyone on the Island is proud to contribute" – he said. "The races are to take place on the north coast of Crete at Chania, Rethymno, Heraklion and Agios Nikolaos in the following week" – he added.
Heraklion is not a big city area wise, so I arrived pretty quickly at the hotel. Maybe too quickly J, I would have loved to keep listening to "my guide" proudly describing his city and his people. I had to say goodbye to the taxi driver, not before thanking him for his kindness. Stepping out of the cab, it seems regatta preparations fever surrounded me; everyone was excited, busy and jubilant, unless my good Crete citizens are always so buzzing.
And there it was, my hotel – Lato Boutique Hotel – in the center of the old city of Heraklion. Although I'd read about it online, I really did expect a hotel like any other, a place to sleep and maybe eat, not much of an experience, this is what I figured on. However, Lato´s unique location gives one the impression it "hangs" out over the old harbor. From the hotel you can see the Venetian Castle (very well preserved) and the endless blue Cretan Sea. A friendly staff welcomed me and while checking in, they told me about the excitement to have the 5th and 6th races take place in Heraklion (on Friday 18th). The enthusiasm caught me and I was sorry I wasn´t going to see the race. My visit to Crete was only a 2 days trip and would end right before the inauguration weekend of the regatta, but I was determined to make the most out of it.
On the way to my room, I took a peek at the rest of the rooms and loved what I saw. What can I say, I like to know everything about anything around me :).
The hotel was full with guests checking in, so you can imagine: rooms' doors opened, luggage in the hallway, kids screaming with excitement, you get the picture :).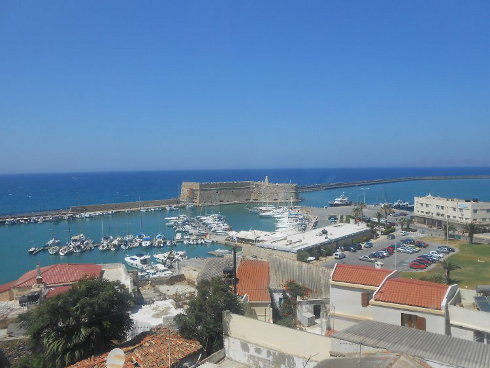 My room was a pleasant surprise too: comfortable, with lovely colors, super clean and a beautiful terrace, from where I could admire all the hustle and bustle of the city, and the azure sea stretching to the cloudless blue horizon. "What more could anyone want?" I remember thinking to myself. Oh, maybe sleek sailboats dotting the crystal sea?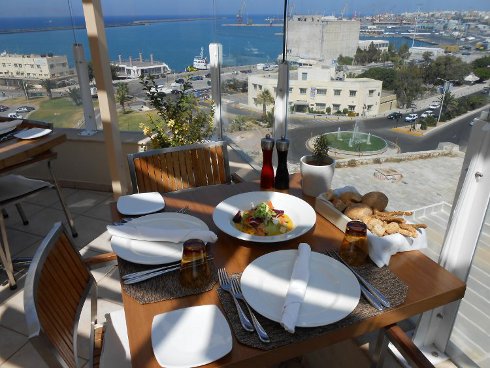 Later on I left the room heading towards the roof-top restaurant of the hotel – Herb´s Garden. I couldn´t wait to taste again my favorite Greek dishes: fresh tomatoes with goat cheese and olive oil, the country salad and to try Cretan flavors. It couldn't get any better, while enjoying lamb bites wrapped in vine leaves, I was amazed by the spectacular views the city had to offer and felt race expectation in the air too.
After an afternoon of sightseeing the wharf and shopping the market, I crashed on those crispy white linens to awake the next day anticipating what lay ahead. My visit was only for a couple of days, but I vowed to catch the boats lining up and preparing for greeting the racers from Chania. Another day of shopping and a return to mighty Knossos (I can't stay away) ended up this short excursion.
The next morning, as beautiful morning light invading my room, I woke up eager to exploit the time left and do a little shopping session J. First stop: Heraklion's Central Market on 1886 Street – the meeting point for the inhabitants of this lovely port city of Crete – with small old-fashioned shops filed with fresh fruit and vegetables, Cretan souvenirs, thyme-flavored honey and olive oil. I just couldn´t resist so I bought a nice big jar full of 100% delicious Cretan honey. Set amid all this local souvenir wonder, old familiar faces like Starbucks, are a welcome sight early in the mornings.
Wandering around I "landed" in front of a beautiful, vibrant gift shop – Mayaba Store – close to Heraklion Archaeological Museum, on Daidalou Street. The shop, teamed up by an extremely nice and calm husband and wife (which surprised me, as the area tends to be chaotic) is full of handmade unusual souvenirs like: trumpets, colorful lamps, furniture, antiques, boats, welcome boards and so on. I kinda get lost in time being amazed by all the beautiful stuff and quality they had, but after 30 minutes or so I picked up a beautiful handmade sailing boat to remember my staying and the race I couldn´t see.
Although short, my trip to Heraklion and my stay at Lato Boutique Hotel add another chapter to my repertoire of revisited modern wonders. The firsthand experience of Cretan hospitality, the exquisite cuisine and of course the ever-present past Crete is so noted for, this place is simply marvelous. They say the secret of Cretans is not just the food, it´s a way of life. Till next time… EFHARISTO Crete!
 About the author
Corina Manea is a Madrid based PR professional with more than 10 years experience in banking and communication. She reads, she blogs about PR and traveling, she loves pets (especially her German shepherd – Rex). You can read her on her blog Nuts About PR, on Everything PR, follow her on Twitter or just send an email at corina (dot) manea (at) gmail (dot) com.