No holiday is complete without your pet. While long-haul international trips aren't practical for dog owners, short trips to the coast or countryside are far more fun if your pet can join you.
One of the most common questions from would-be holiday homebuyers is whether or not their pet is welcome in their holiday home. It's an understandable concern – no passionate pet owner would want to spend their summer away from their dog.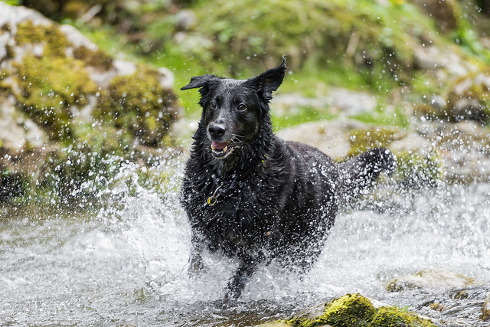 Unfortunately, not all holiday parks allow pets within their grounds. Some caravan and holiday lodge parks place serious restrictions on pets, while others ban all pets from their grounds.
If you're thinking of purchasing a holiday home, it's essential that you consult your park operators regarding pets. While some parks place strict restrictions on where pets can stay within their park, others welcome pets with open arms. 
Even if your holiday park is pet friendly, it's important to be a considerate pet owner while you're on holiday. These six tips, tricks, and tactics are essential for creating a pet-friendly holiday environment that benefits both your pets and your neighbours.
1.    If your park has a dog area, make sure you use it
Most pet-friendly holiday parks have a special area for dogs. If you're bringing your dog along for a family holiday, make sure you use the pet area to avoid annoying the park's other guests, who may not appreciate a dog in common leisure areas.
Note that not all pet-friendly holiday parks have special areas for dogs. Some, such as South Lakeland Lodges, have pet-friendly areas and dog freedom paddocks for visiting pets in some parks, but not others.
2.    Keep your pets inside or secured whenever possible
It's important to be a courteous and polite dog owner while on holiday. Try to keep your dog either secured outside your holiday home or safely inside the home. Dogs that are housetrained and friendly can be kept outside your holiday home.
3.    Remember to walk your dog while on holiday
It's easy to forget the importance of walking your dog while on holiday. Spend just as much time walking your dog while staying at a holiday home as usual – after all, it's a great way to see the local scenery.
4.    Make note of pet-friendly restaurants in the area
Dog-friendly restaurants are excellent places to enjoy a meal or drink while with your pet. If your holiday park doesn't have a list of pet-friendly businesses in the area, try to find some while out and about walking your pet.
5.    Check if your dog is on a restricted or banned list
Certain breeds of dog – typically breeds with a reputation as being dangerous or aggressive, such as pit bulls – are banned from some holiday parks. Check if your breed of dog is banned from visiting your holiday park, or restricted from certain areas.
6.    Create a pet-related emergency services list
If your pet becomes ill while on holiday, do you know where to take it? It's a good idea to create a quick list of nearby services for keeping your pet healthy, such as nearby vets and shops that stock animal products.