Whilst walking along the quaint cobblestoned area of the gorgeous UNESCO site, it is quite a rich platter of visionary, sensory and historicstimulus. San Cristóbal de la Laguna was the first Spanish non-fortified colonial town, its layout providing the model for many more colonial towns in the Americas. The peaceful and free concept the town was based upon from its birth just before the 1500's, feels almost palpable. In its beginning people were not allocated plots, but were given free rein to build wherever they wanted. Initially mainly housing soldiers, the land was offered as public and 'free', people being allowed to freely build their homes. Although soldiers predominantly, the town has been relatively peaceful under this almost utopian birth.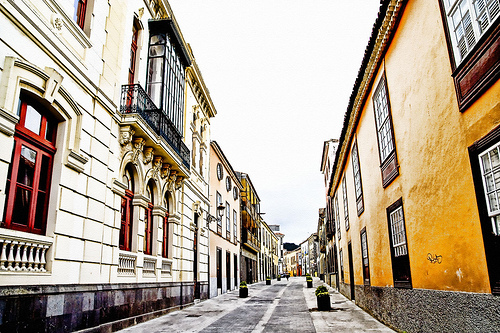 Amidst my musings upon the area's history, and trying to take in its heritage, I found suddenly that I had happened upon the heavily renaissanceinfluencedtown centre. Here would have been where hunters and poachers alike would have sold their questionable game. Speaking of which, accidentally getting so lost in my surroundings, and in time itself, I found that I was very hungry. Between St Catherine'sConvent and the Neo-Classical Cathedral, I found nestled a quaint, traditional looking Italian Restaurant. It was called Osteria da Andrea.
It had a very artistic, sophisticated feel whilst being minimal and unpretentious. It seemed to be very traditionally Italian, and being very cosy I felt it was just what I needed after my days ramblings. They had cleverly extended out over the patio of this old Canary townhouse so they had a decent amount of space for therestaurant, and this is where I sat. With such a great setting I had pretty high hopes for the food now I had sat and took in the ambience. It was nice to have found somewhere that serves something other than the usual hearty Canary cuisine.
[adsense]
I went ahead and ordered Spaghetti al Nero di Sepia for my main, and Bruschetta for my starter. The service was most friendly and the gorgeous young waitress made me feel almost like an old friend, which was nice and relaxing. The service was also swift and I had before me my starter within 10 minutes. Without further ado, I was eagerly tucking into my Bruschetta. The food was very well presented but was not the tastiest Bruschetta I had ever had, and I'm not particularly much of a connoisseur.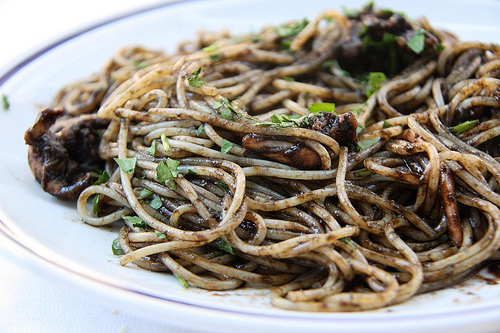 However as I would not judge a book by its cover, I would not judge the main by the starter. My Spaghetti al Nero di Sepia arrived and looked fantastic, gleaming black from the squid's ink. I am a great lover of seafood, and this dish really did live up to expectations, aromatic, rich and tasty without being overbearing. Not having a sweet tooth I did not go for pudding, but was nonetheless absolutely satisfied with the 2 courses, both of which were very genuine in portion size. I would definitely recommend this restaurant, excellent food for excellent prices.
About the author
Peter has been travelling all over the Canary Islands and all the coasts around Spain, he enjoys writing about the epic treks he finds himself on. Peter loves staying in villas that he books at http://www.housetrip.com/en/tenerife