Greece's first eco-friendly, smart technology hotel
Olive Green Hotel is a premiere in Greece: the first 100% eco-friendly, smart technology hotel to open in the country, and fortunately located in the heart of Heraklion, on enchanting Crete, my favorite island in the world.
There's one thing Crete has that no other place on earth can remotely reciprocate: philoxenia, a love for strangers, which translates into warm hospitality. Olive Green, which takes its name from the Greek symbol of purity and wilderness, the olive tree, has a staff that reflects philoxenia in all its aspects. Warm smiles at the reception, helping hands when and where you need them, flawless room service, and the list goes on. It's true what they say that people make the experience unforgettable.
An Exclusive Inside Look into the Olive Garden Rooms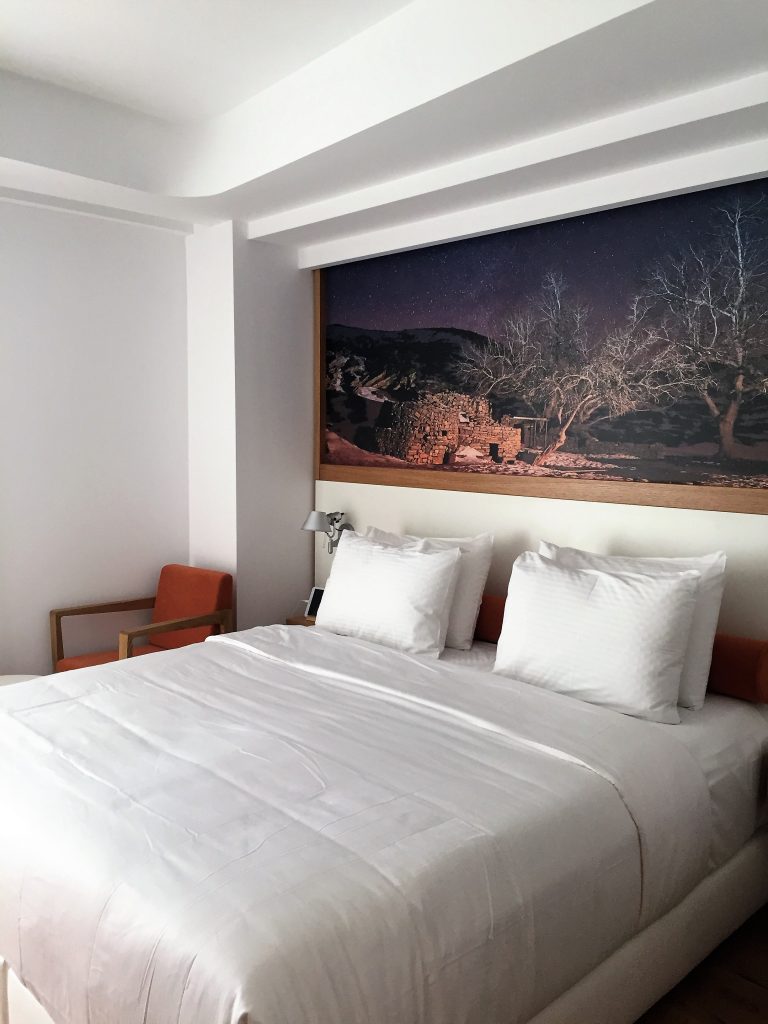 But then, onto the rooms, which are urban-chic, unpretentious, yet enough to give you a feeling of "posh" – albeit the hotel is designed as a mid-range boutique, suitable for those who look for a central spot to allow them to visit the most famous landmarks of Heraklion on foot. But the rooms are not focused on attractions in the city. Instead, they introduce the traveler to other island destinations, to inspire their next Cretan adventures.  Guests can scan the QR codes on these pictures to find information about the destination where they were taken: description, distance from the hotel, route, points of interest, history, and more.
The rooms are all furnished in minimalist style, but all materials used are either organic or environmentally-friendly. It's always nice to know that you get to spend the night in a place where everything was designed with care for our planet. They have LED lights, which can be controlled with a tablet. The hotel is self-sufficient, as it generates electricity with its own solar panels. They recycle everything, and you are encouraged to help too.  The sink is in an open space in the room, while the high-pressure rainfall shower is separated from the sleeping area with glass panels covered in breathtaking Cretan photography. This is pretty much like what you see in urban hotels in Paris, where they make use of small spaces brilliantly.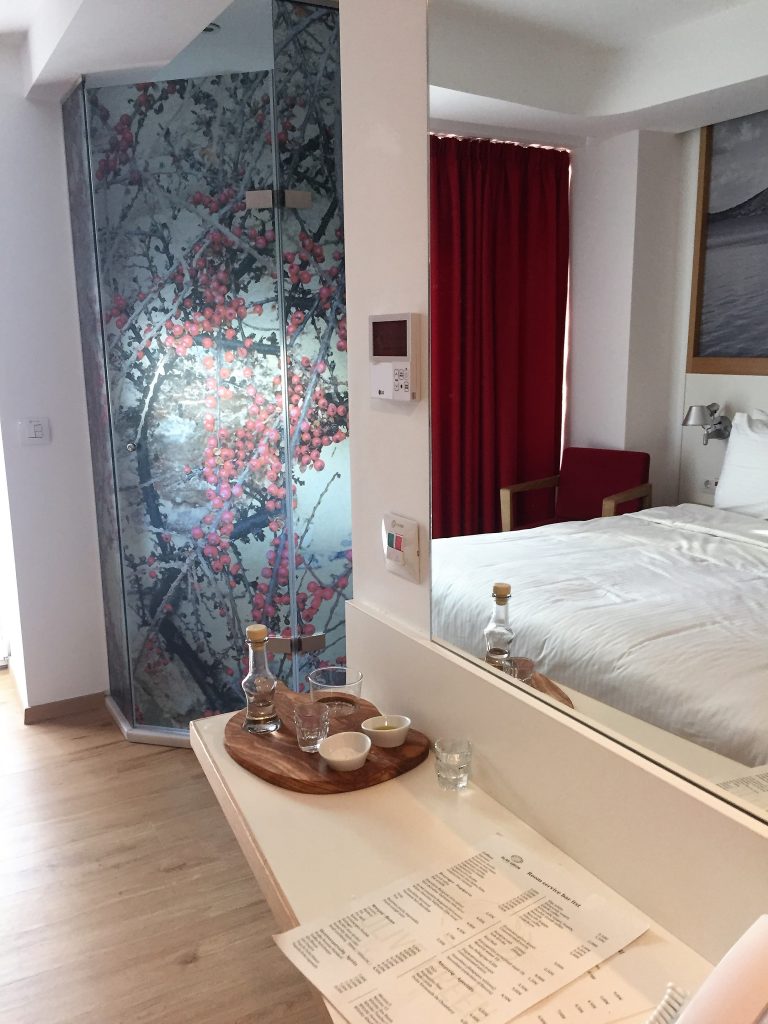 The most impressive area of the hotel is its main lobby: an authentic Cretan postcard. Real olive tree saplings dominate the visual field. They are potted, but the pots are covered and converted into seats – a nice creative touch that offers more to those who want to linger in this area.
The olive tree is heavily promoted through cuisine and complimentary Cretan olive oil tastings at breakfast. There's even a complimentary tasting waiting in the room upon arrival, with Cretan raki, olive oil, fresh homemade bread, and Cretan salt – a lovely surprise for guests who thus have the first tastes of the island. Breakfast is complimentary and covers a whole range of tastes and dietary preferences.
Because the hotel is located very close to the historic center of Heraklion, there are many restaurants nearby, but their own 626 All Day Lounge & City Garden is a lovely spot for lunch, or even for cocktails in the evening. Chef Zinonas Christofidis is known for his beautiful culinary creations at Herbs' Garden, the pearl of Lato Boutique Hotel, Olive Green's sister venue.
Liked the post? Why not Pin it?