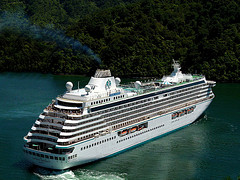 A luxurious cruise trip for 124 days has recently been launched by Six Star Cruises. This expensive package includes a flight in a private jet and special treats like caviar and Dom Perignon. The ship departs from Los Angeles, USA, and will take travelers to 28 countries such as New Zeland, Malaysia and the Maldives. This cruise would cost a couple 1 million USD more than buying their own yacht, or about the same they'd pay to purchase a luxury boat and sale across the world in it – 1.5 million US dollars per person.
The cruise ship, Silver Whisper has Royal Suites with bar and veranda for those who can afford the price tag. The package includes four nights at the Beverly Wilshire Hotel in Los Angeles and four nights in a suite on Sunset Island, Miami.
Guests will travel VIP-style right from the beginning – they will be picked up from their homes by a helicopter and transferred to a luxury Boeing business jet. The on-flight culinary delights include Beluga Caviar (5800 dollars per kilogram), Hong Pao tea (3000 dollars per kilogram) and Dom Perignon Rosi, the champagne label usually associated with rich and luxury-addicted party people. The Boeing is adorned with gold-plated fixtures and features a luxurious lounge and bedroom. The dining room is also high-class, offered by a Michelin-starred chef who will create a 10-course tasting menu.
If you don't have the money yet, don't worry, you have the time to save or rob a bank. The luxury cruise is being carefully prepared and the ship will only start its voyage in January 2013.
Would you pay this much for the cruise, considering money would not be an issue? Or would you much rather use it for, let's say, a round the world trip at five star hotels across the world and flying first class on normal airlines?