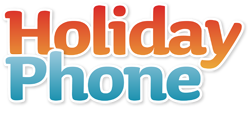 HolidayPhone and Travelport have reached a global cooperation agreement to offer roaming free mobile Internet, voice and text services to international travelers. Using the two companies' services, tourists can save significant amount – from hundreds to thousands of dollars – in mobile phone charges.
To make the services available, HolidayPhone will use the Travelport Viewtrip itinerary solution as a means to promote roaming free mobile Internet, voice and text services for international business and vacation travelers.
"This is an exciting partnership with HolidayPhone and a money-saving travel solution offer that our customers can pass along to their travelers. We are keenly focused on building out offers and opportunities on our ViewTrip itinerary product, and HolidayPhone's services are a great compliment to that," says Allison Solomon, Head of Advertising Strategy and Operations at Travelport.

"We are happy to have such a reliable partner that provides us with this great opportunity to develop our business," says Joacim Boivie, CEO for HolidayPhone. "It's a fact that most travelers today bring their mobile devices to make calls and use their mobile Internet access when abroad. However using mobile Internet when visiting another country can be very expensive because of mobile operator pricing on international roaming. HolidayPhone has solved this problem by creating a user friendly and cost efficient product with services for international travelers and tourists. We are very excited to be able to offer this solution to a global market through our partnership with Travelport."
[adsense]
Mobile charges are quite an issue when traveling abroad, especially when the tourist uses their phone for more than a few texts and urgent phone calls. Internet access is usually extremely expensive and most rely on hotel wi-fi or free hot spots to get things done. A service that would help lower these costs while providing easy mobile Internet access is indeed quite enticing.