Let's face it–the list of travel destinations for family vacations, romantic getaways, and adventurous excursions is a long one. From Disney World in Florida to a wine tour through Tuscany, many things come to mind if you're looking for a path that's been well-traveled. If, however, you're looking for some unconventional destination suggestions–coming up with a decent list to choose from can be a little bit trickier. Looking for some freaky travel destinations capable of raising some eyebrows? Highlighted for you here are 10 freaky places worth considering the next time you get the itch to travel.
Transylvania, Romania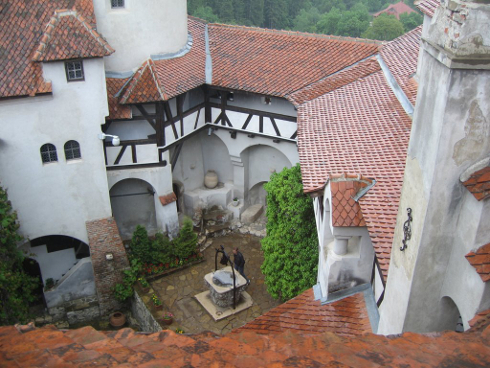 If you're looking for a travel destination with a little "bite," try Bran Castle in Transylvania, Romania. Have you ever wondered where the inspiration for Bram Stoker's character Dracula came from? It came from Vlad Tepes, commonly referred to as Vlad the Impaler–once believed to reside at Bran Castle way back in the 1400's. The enormous fortress features many hidden passageways, dark nooks, and creepy crannies–and is a great place to tour if you consider freaky to be fun.
Stanley Hotel – Estes Park, Colorado
The Stanley Hotel in Estes Park, Colorado, is another place worth checking out if you don't mind things that go bump in the night. Home to a couple of friendly ghosts, the Stanley Hotel is also the place where Stephen King began writing one of his most famous novels, The Shining. While there, be sure to stop by room 217–the room that King stayed in and the one that's rumored to be the most haunted.
Tower of London – London, England
London, England, is no stranger to freaky–and you'll find that and more if you pay a visit to the Tower of London. Many famous prisoners were held, tortured, went missing, or were executed there–Sir Walter Raleigh, Scottish King John Balliol, Anne Boleyn, and suspected sorcerer Hew Draper–just to name a few. The Tower features many costumed characters so that visitors may have an interactive experience, as well as a display of tools, devices, and other contraptions used to torture or execute the prisoners that were held there.
Barrow, Alaska
The northernmost town in the United States and the ninth in the world, Barrow, Alaska isn't just cold–it's shrouded in near-darkness for a period of time beginning in November and ending in late January.
[adsense]
The famous setting for the comic book series 30 Days of Night and the film that followed, Barrow is a uniquely freaky travel destination due to its freezing temperatures and prolonged periods of blackness.
Catacombs of Paris – Paris, France
If Paris is a travel destination somewhere on your to-do list, be sure to tour the famous Catacombs while you're there. What are the Catacombs of Paris, you ask? Well, they're a couple of kilometers worth of underground tunnels lined with stacks and stacks of human skeletal remains. If that's not freaky enough, get a load of where they came from. 18th century Paris, Le Cimetiere des Innocents especially, was becoming over-crowded with the remains of the dead. What was the solution? The remains were relocated to the city's underground tunnels, which now serves as a tourist attraction for those who aren't faint of heart.
New Orleans, Louisiana
While New Orleans could be described in a number of ways, freaky is definitely somewhere on the list of adjectives that seem appropriate. If you're planning a trip there, check out the mysterious French Quarters, take a tour through one of the city's spooky cemeteries, or go during the world-renown Mardi Gras celebration. In a land where magic and voodoo aren't just another thing of the past, you're sure to have an experience unlike any other.
Loch Ness Lake – Scotland
Have you ever heard tales about the legendary Loch Ness monster, commonly referred to by Scottish natives as "Nessie?" Well you can make up your own mind as to whether or not those stories are real or make-believe by traveling to Lake Loch Ness, the largest freshwater lake in all of the United Kingdom. Take a boat tour of Lake Loch Ness–and try to spot the ancient monster that's believed to reside within its murky depths.
Rolling Hills Asylum – East Bethany, New York
If you're ever near East Bethany, New York, you might want to take a tour of the Rolling Hills Asylum–an old "poor farm" that once housed orphans, lunatics, drunks, and other strays looking for shelter. Many visitors to Rolling Hills have had encounters with some of the disembodied beings that reside there. Tour options include an eight hour-long "captivity," a four hour-long "detainment," or a scheduled two-hour historical or flashlight tour.
Salem, Massachusetts
The Salem Witch trials of 1692 have kept Salem, Massachusetts on the map for the past several hundred years. A time of mass hysteria that included the imprisonment and deaths of many accused witches, many remnants of this history are still on display to this day. On a trip there, you can see Gallows Hill where many accused witches met their deaths by hanging, the Salem cemetery, the Salem Witch Museum, and even the original homes of accused witch Rebecca Nurse and trial judge Jonathan Corwin.
Rapa Nui, Easter Island
Located off the coast of Chile in the Pacific Ocean, Easter Island is one of the most remote places on the planet for visitors to travel to. As well as being known for its remoteness, this fascinating place is also known for the unique stone sculptures that are scattered about and that line the coast of the island. The large stones, carved into the shapes of heads, are known as Moai–and there a sight that you really must see to believe.
This list of freaky travel destination suggestions is only just the beginning if you're looking for a place to visit that's off-the-beaten-path. If you're looking for something different than the norm, any one of the destinations here is sure to fit the bill.
Guest post from Nicky Shaw. Nicky writes for HomeSecurity.org.