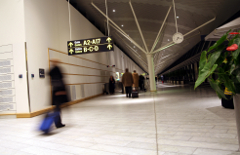 Not long after hurricane Sandy passed through, another storm blocked the air traffic in the New York region, forcing airlines to cancel various flights.
United and American Airlines suspended operations in the region, as white-out conditions developed, with blowing snow and fog, limiting visibility. In order to reduce storm-related financial losses, other airlines have cancelled flights as well. All are encouraging passengers to reschedule and they are allowing them to do it for free.
More than 500 US flights have been canceled at the Newark Liberty International Airport. Other airlines, including Delta Air Lines Inc and JetBlue Airways Corp, are asking passengers to reschedule Northeast flights to a later date and waive the usual change fees of up to $150. Twenty flights departing from Los Angeles International Airport and another twenty that were bound for LAX had been canceled.
[adsense]
Coming only a week after hurricane Sandy caused major destruction, flooding and loss of power in New York and New Jersey, the new storm was set to cause some of the same problems.
Last week, more than 20.000 flights were canceled because of the downgraded cyclone Sandy, making it the second-most disruptive storm in the past seven years.
The strengthening storm moving up the East Coast with snow, rain and wind gusts as high as 60 mph, is expected to spread across the still suffering region through Thursday.