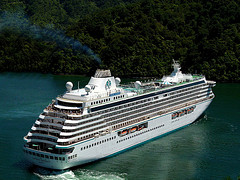 Celebrity Cruises is no longer heavily focusing on the Caribbean cruise goers starting 2012. Starting with the 2012-1013 cruise season, the company plans on having
only six ships operate voyages in the region
. The change of focus comes as the company decided to expand to other far-off regions, like Australia and New Zealand.
The six ships to be cruising the Caribbean at the designated cutback date are four of Celebrity's new Solstice Class ships – Celebrity Reflection, Celebrity Eclipse, Celebrity Equinox and Celebrity Silhouette, and two older vessels of the Millennium Class fleet, Celebrity Constellation and Celebrity Summit. The six ships will be taking travelers on 21 different itineraries from two US ports, Miami, Fort Lauderdale, and from San Juan, Puerto Rico.
[adsense]
While the numbers of ships is decreasing, those who have their hearts set on the Caribbean can still embark on one of the ships cruising the area, together offering a capacity of over 15,000 passengers. The spots on the 2012-2013 cruises in the region can be booked starting on this year's April 20th.
The Celebrity vessels that will embark on farther cruises are Celebrity Solstice, exploring Australia and New Zealand in the 2012-2013 cruise season and Celebrity Millennium who will inaugurate Celebrity's first Asia cruising season. The company also plans several voyages to Hawaii and the Panama Canal, offering tourists even more alternatives to the overused Caribbean sailing itineraries.