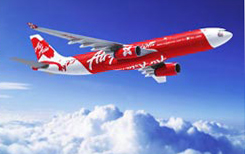 Low cost carrier AirAsia and aviation technology training and technology provider CAE have turned their existing business partnership in a joint venture to create a training center in Kuala Lumpur, Malaysia, the Asian Aviation Centre of Excellence. The center will provide training for pilots, cabin crew, maintenance engineers and technicians, and ground services personnel for all airlines in the Association of Southeast Asian Nations (ASEAN) region. AirAsia personnel will also be trained at the new facility.
The Asian Aviation Centre of Excellence in Kuala Lumpur. will start by featuring six CAE-built full-flight simulators covering the Airbus A320, the A330/340 and Boeing 737 Classic aircrafts.
"This is the first joint venture of its kind in the ASEAN region, and it combines the strengths of two dynamic industry leaders," said Tony Fernandes, Chief Executive Officer of AirAsia. "CAE is the global leader for simulation and training experience and operates the world's largest network of commercial aviation training centres. AirAsia brings our brand strength, expanding presence in the region and our low-cost operational expertise."
[adsense]
The Kuala Lumpur training centre will be also be part of the Airbus-CAE Training Cooperation, a joint global network of training centres for Airbus operators, that at this time has the largest fleet of full-flight simulators (FFS) for Airbus aircraft types, standard training courses and expert instructors.