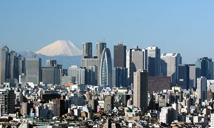 Who would know better than a foreigner what international travelers expect from Japanese tourism? No one, that's the conclusion Japan reached and decided to recruit those very foreigners, have them traveling through the country and offer feedback and advice based on their touristic experience.
Japan's government plans to pay travel allowances to about 100 people, native English, Chinese and Korean speakers, who will visit key cities in Japan and then offer advice and ideas on how to make the countries services more travel-friendly for non-Japanese speaking visitors. The foreign travelers will be recruited to help Japan get higher numbers of tourists to visit the key attractions of the Asian country.
The recruited tourists will focus on advice and ideas for public transport, their stays at local hotels and the dining experiences in local Japanese restaurants, said an official at the Japan Tourism Agency. Their effort comes to support the progress made by Japan in recent years in offering information for tourists in other languages, especially in major cities. The majority of travel information is still available mostly in English, although Japan's National Tourism Organization expects the number of visitors from China to reach a record 1.5 million this year, many of the Chinese tourists being high-spending travelers, looking to shop for Japanese electronics and other goods.
"What we hear is that there really isn't enough information on things like how to buy train tickets, or how to use the baths in traditional Japanese inns," said the official. "It's hard for us Japanese to judge how prepared different parts of the country are — we need people to use as monitors who really don't know Japan at all."
The main channel for the traveler recruiting process will be the Internet, but Japanese officials are also considering other methods – Â asking the relatives of foreign students studying in Japan.
All expenses within Japan will be handled by the Transport Ministry, and art of plane fares to Japan might also be included.