The eastern flank of the second-largest wildfire in recorded Arizona state history has crossed the border and reached New Mexico. The firefighters are currently struggling to keep this section under control, while weather conditions of last night have helped keep the smoke and fire contained.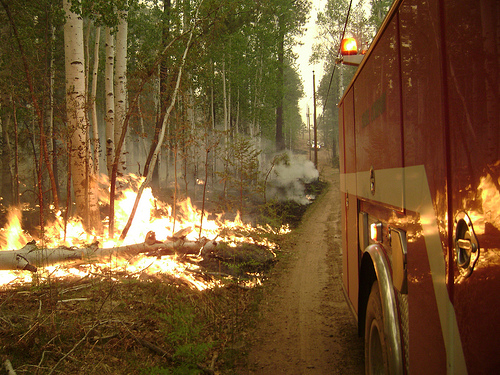 Photo source
At the same time, a new fire is currently burning in the south of New Mexico at Carlsbad Caverns National Park and hasp expanded to 3,000-acre wildfire inside the park. Firefighting crews are trying to contain it and put it out, while hundreds of visitors to the park have been evacuated.
The Arizona wildfire, named Wallow Fire, has been burning since late May and has since blazed through 706 square miles. At this time, it is 10% contained, but authorities are optimistic about reaching 15% very soon.
Residents of areas where the fire has been put out are starting to move back home, after everyone in the area, locals and visitors, have been evacuated. Amidst fear of bad air quality and reassurances that water in most regions is pure, people are trying to get back to their pre-fire lives.
[adsense]
The Wallow Fire is the second-largest recorded fire in the US state history, the land area it has burned being roughly equivalent to one and a half times the territory of Phoenix, the capital and largest city in Arizona.