So you've finally done it. You made plans to go to the alluring exotic island of Hawaii. So what will you do while you're there? Hopefully, you will do a little bit of everything. One thing's for certain though, you'll have to make sure that watching Hawaiian fire dancers is on the list.
Things to Do in Hawaii
Go to a luau
Watch fire dancers
Taste new foods
Go shopping
The Polynesian Cultural Center
You can achieve all four activities in one place: the Polynesian Cultural Center. The Polynesian Cultural Center is located on the island of Oahu about an hour north of Honolulu on the northeastern side of the island in the city of Laie. Prepare to spend a lot of money and even more time to enjoy a full day's worth of events at the family-friendly center of 42 acres. You can visit the villages from the Polynesian islands of Hawaii, Fiji, Samoa, Aotearoa (New Zealand), Tonga, Tahiti, and Marquesas when you visit the center.
Go to a Luau
The most authentic luau is said by the Kahili Awards to be the one at the Polynesian Cultural Center. Their dinner and show packages are not to be missed. The three main options for dinner and a luau are Ali'i Luau, Prime Dining, and Island Buffet Dining. Whichever you choose, they each include a fresh flower lei greeting, Hawaiian entertainment (which includes fire dancing), and authentic Hawaiian cuisine.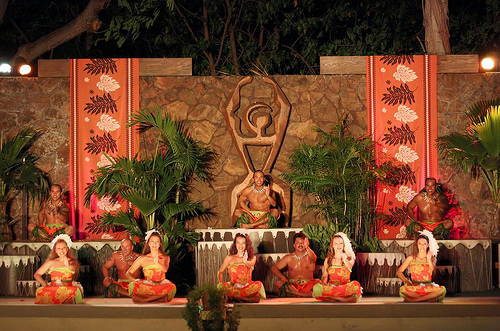 Watch Fire Dancers
As part of the show at the Polynesian Cultural Center, you will see amazing performers dancing with fire. They will dazzle you with their swirling fire sticks and staggering fire tricks. The performance takes place in a lagoon-style arena that seats about 1,000 diners. The stunning backdrop includes gentle 15-ft. waterfalls, palms, and hibiscus blossoms amid the meandering lagoon. The fire dancing is just part of the 100-performer song and dance show that sometimes includes fire knife dancing as well.
Taste New Foods
Through exploring the various Polynesian cultures, you will have a chance to taste authentic signature foods native to each island. Poi is a Hawaiian dish made from mashing cooked corm from the taro plant. It is delicate and sweet, but must be eaten when fresh and cannot be stored. Samoan poi is a creamy dessert of mashed ripe bananas and coconut cream. Tahitian poi is a sweet, pudding-like dessert made from papaya, bananas, or mangoes cooked with cassava and coconut cream. Another must-taste food is fire-roasted pig. While strolling through the park and tasting the foods, you may catch a glimpse of several fire dancers throughout. They perform their natural activities in the villages, some of which are practicing hula dancing and fire dancing.
Go Shopping
You could go shopping anywhere in Hawaii such as Walmart or the airport, but why would you want to? The gift shop at the Polynesian Cultural Center allows you to make authentic gift purchases for those loved ones left back home. Be sure to get a few gifts for yourself as well. If you happen to go shopping at an outdoor market or shopping mall, you may be lucky enough to see a smaller scale fire dancing show.
No matter what you choose to do or where you choose to go in Hawaii, your trip won't be complete without seeing a little fire dancing. Another show that includes some fire dancing is the Magic of Polynesia, starring John Hirokawa. If you happen to pass by the beach at night, you may also catch a glimpse of a fire dancer at a wedding or a family luau, or you may see a lone fire dancer practicing in front of a small group of passersby. If you're lucky, you could be one of them.
Steve Mahelona is a native Hawaiian and resident of Honolulu. Besides being engaged in promoting traditional Polynesian cultural practices, he loves to hire fire eaters for his backyard luaus and as corporate entertainers.