UAE plans to continue investments in tourism infrastructure development
Travel and tourism is currently one of the major contributors to the United Arab Emirates GDP, with a percentage estimate for 2010 of close to 17%. The UAE is becoming one of the world's leading travel destinations and a key competitor as the 'Travel & Tourism Competitiveness Report 2011' ranked them as 30th in a top of 139 countries and first in the Middle East.
The authorities plan to keep and strengthen their current position by continuing to invest heavily in developing the travel and tourism infrastructure. A stronger position on the international travel market is seen as a solution to boost the country's economy and its competitiveness.
UAE's travel and tourism sector has benefited heavily from both governmental support and investments – it took the  third place for government priorities in this sector in a recent report released by the Abu Dhabi Economic Development Department. Also, the Emirates' effective destination marketing campaign and strong presence at international travel and tourism events and fairs has helped them achieve a much needed international recognition and interest.
The cities most popular among tourists are also the biggest contributors to the UAE GDP. 93% of the travel and tourism contribution was generated by Abu Dhabi, Dubai and Sharjah. Travel and tourism percentage contributed to the GDP is expected to grow in the next ten years by over 8% in each year. The UAE travel and tourism currently employs 429 thousand people, which represents 13.8% of the country's total labour force. The Economic Development Department report also predicts that the demand for jobs in the tourism sector will have  by 5.7% year to year increse for the next ten years.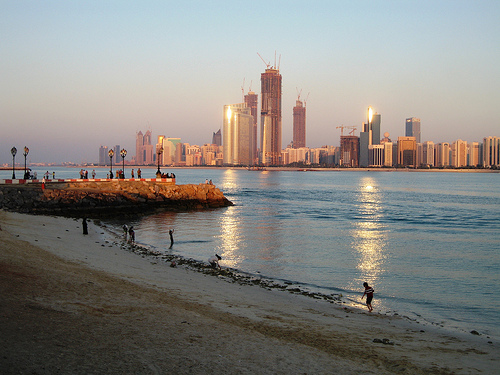 Abu Dhabi Tourism Authority has also released statistics that confirm the powerful growth of the travel and tourism sector. The number people staying at hotels and hotel apartments in Abu Dhabi has risen by 10% during the first four months of 201, compared to last year's same period. The number of booked hotel nights has also increased by 26% and a similar trend was recorded for occupancy levels, revenue and average duration of stays in Abu Dhabi. Dubai's hotel industry has also reported significant growth – 14% for number of visitors in the first quarter of 2011, and an 81% occupancy rate.