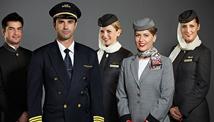 The national carrier of the United Arab Emirates, Etihad Airways, announced today that it launches the first direct air link between Abu Dhabi Washington D.C. with non-stop daily flights. According to the company, this service to Washington Dulles International Airport was introduces in order to meet the business travel and government demand, and also to offer a direct flight to all the people interested in leisure trips in these two capitals and in nearest cities.
"Government and corporate customers in both markets have given us strong indication that the Abu Dhabi – Washington route can support a daily service from day one," explained James Hogan, President and Chief Executive Officer of Etihad Airways.

"We have confidently responded by committing 3,360 seats per week and already our forward bookings on the route are very encouraging in both directions," Mr Hogan said. "In addition, we will open a US$6.8 million premium lounge this week in Terminal A at Dulles Airport to benefit our Diamond First and Pearl Business Class passengers."
Washington, D.C. is the fourth North American destination for Etihad Airways after New York, Chicago and Toronto. To service this new destination, the flight EY131 will depart Abu Dhabi International Airport at 10:00am daily for a 15 hours flight. Etihad Airways will use Airbus A340-500 aircrafts for this new flight, accommodating 240 passengers in a spacious three-class cabin — 12 in Diamond First, 28 in Pearl Business and 200 in Coral Economy Class.
[adsense]
The carrier grew 12.6% in passenger numbers last year, and carried almost two million passengers between Abu Dhabi and North America so far. This new flight contributes to making Abu Dhabi an international passenger and cargo hub.
Abu Dhabi Airport has big plans for the future, planning to open a new terminal in 2017, thus increasing the annual passenger capacity from the current 12.5 million to 30 million, and seeks to reach 60 million passengers accommodated per year in the future.