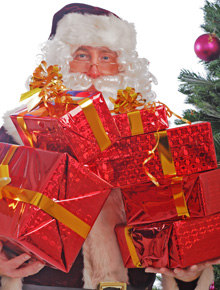 For those of us who love visiting Santa each year before Christmas to share our secret wishes for great presents, Travel Town is a real treat. For the 8th consecutive year, Travel Town Train Museum in Griffith Park will host the unique event inviting families to take a miniature train ride and pay Santa a visit in his North Pole house. Once they arrive, Santa's guests will visit him, take a picture ($5.00 per digital picture) and then take the train back home, enjoying the decorated and music filled train track.
Santa is open for visits starting November 27 and will receive guests on 17 evenings between Thanksgiving and Christmas.
Organized by Travel Town Railroad and the City of Los Angeles, Department of Recreation and Parks, the event is a great alternative to visiting Santa at the mall. Santa's North Pole house and the train track taking families to see him will be this year's only Holiday light show in Griffith Park.
The train ride can only be taken by about 700 guests each evening, therefore buying tickets early is recommended. As some guests will have to wait before seeing Santa, they will be entertained by a dazzling dancing light show. If you want to visit Santa, start praying it does not rain as the train does not work on such weather! 🙂
Event Dates:
November 27 and 28; December 3, 4, 5, 10, 11, 12, and the 15th through the 23rd
Times:
5:00 p.m. until about 8:00 p.m.
Where to buy tickets:
The Travel Town ticket booth or online at www.TravelTownRailroad.com.
So, are you going to visit Santa this year? What present will you ask for?