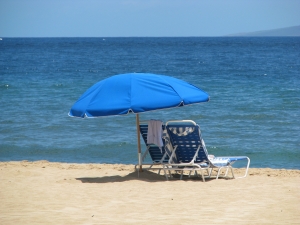 Thrilling adventures, extreme sports, museum and culture center trip filled learning experiences, touring various countries in the search of bands, exhausting shopping sprees or wild night partying vacations, everything seems attractive enough. But the truth is what most travelers want is a relaxing vacation with tidbits of sightseeing and the occasional museum or art gallery stopover.
According to a new Ipsos/Reuters survey of 18,778 consumers in 24 countries, most tourists prefer relaxing vacations, with 35% opting for such getaways, twice as many as those preferring an outdoor trip involving hiking, fishing, boating, sailing or camping, a family vacation with children or a cultural excursion. Women are also bigger fans of such trips of relaxation than men.
"Almost in every country this type of trip was number one," said Dave Pierzchala, vice president of travel research for Ipsos.
The survey interviewed people aged 16-64, from Mexico, Poland, Russia, China, India, Indonesia, Italy, Saudi Arabia, South Africa, Argentina, Australia, Belgium, Brazil, France, Great Britain, Germany, Hungary , Canada, South Korea, Spain, Sweden, Turkey, the United Statesand Japan.
Germany, the UK and Sweden are the top three countries whose greatest majority of citizens voted for the relaxing option over other, more challenging trips.
"It stood out as being the most popular definition of why people get away," said Pierzchala. "If you take enough trips during the course of a year invariably you are going to take a trip where all you are looking to do is to get away, relax and see some sights."
If relaxation is the main purpose for most travelers, cosmopolitan holidays for shopping and fine dining and adventure rides are the least popular. Yet significant percentages of Russians, Saudis and Japanese tourists would prefer the cosmopolitan options. Japan seems to also power the largest cultural group, with 24% saying they prefer to spice up their trips with visits to museums, galleries and festivals. The young crowds, as one would expect, prefer the holiday thrills to more peaceful getaways.
The most family-oriented countries when it comes to holiday planning were Indonesia, Brazil, Saudi Arabia, and Poland. On the other hand, the Chinese, Japanese and French are the ones who dread such vacations the most.
What's your preferred vacation choice? Would you like the relaxation, the culture fix or the thrill ride?