As the temperatures start to dip below freezing and the winter nights roll in, thoughts turn to escaping the cold. But why not wrap up warm and head somewhere in the UK for a few days?  A holiday in the UK is also a budget friendly option in these cash-strapped times and a great way of exploring a part of the country you may not have visited before.  Book a few days in a cosy Sykes holiday cottage for a traditional British winter break.
Top UK Winter Destinations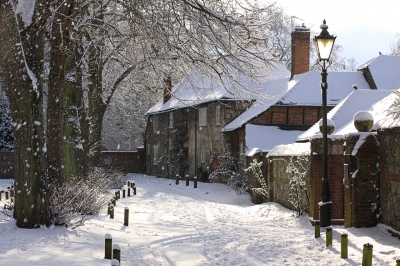 Scottish Highlands and Cairngorms National Park
Scotland is the perfect winter break; snow capped mountains and frozen lakes make for an idyllic festive setting.  Don't forget to pack your skis as you head to the Scottish Highlands to make the most of the stunning scenery.  For the less adventurous, there is no better way to explore than by foot-just wrap up warm and enjoy a bracing stroll.   Aviemore is ideally located for the Whisky Trail and the dog sled rides give an exhilarating tour through the landscape.  Closer to Christmas, children will love meeting Rudolph and his friends in the snow.
Dorset
Dorset's golden beaches are still stunning when the temperature drops and where better for a winter stroll to blow the cobwebs away?  Cycle from Bournemouth to Sandbanks along the beach and use the chain ferry to reach Studland for a unique perspective on this section of Jurassic coastline.  Your canine companions are once again welcome on the beaches now the summer crowds have left.  If you feel like getting in the festive spirit, the Bournemouth Christmas market is a real crowd pleaser and easily accessible wherever your holiday accommodation is located.
Mid Wales
Head to a holiday cottage in Mid Wales to make the most of the gorgeous Brecon Beacons scenery in the winter months.  The Park Society offers a programme of walks throughout the winter months suitable for all abilities.  Taking part is a great opportunity to see the area through the eyes of a local, just make sure to wrap up warm!  For a more relaxing day, head to Builth Wells.  Well known for its annual Royal Welsh Show, the Winter Fair is a fantastic day out and gives you the chance to stock up on some Christmas gifts.  Make sure you check out the livestock show where local farmers compete for prizes and bragging rights!  Ideally located for the Pembrokeshire coast, this is a destination with something for everyone.
Wherever you choose to make your winter destination, your holiday cottage will be a warm and inviting at the end of a busy day.  Wrap up warm for a wonderful winter break! Visit www.sykescottages.co.uk to find the perfect holiday cottage for your winter getaway.