One of the hardest parts about packing when traveling is balance: bring everything you need, but keep it light and manageable. By everything you need, I mean just that – enough to last you for the duration of your trip, and the right variety to suit all the situations you might find yourself in. While this is easier to achieve when the trip is a short one and, even better, has a clear purpose, lengthy periods spent roaming this beautiful planet make it trickier. You need to pack for different types of climates, for different cultures, and for different circumstances.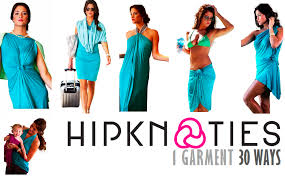 Anything that makes this task of balancing your travel luggage easier always catches my eyes. So the idea of a wrap, versatile dress that's fit for any body type sounded very appealing to me. Hipknoties came up with this simple fashion concept that is extremely easy to wear and can appeal to any woman. As these versatile dresses are available in a wide range of colors and patterns and there's no right way to wear one, it can adapt to match individual styles.
The best part? Depending on how you wear it, it can fit different events and situations, which means less outfits for you to bring along. It's a one-size-fits-all concept, so it will save you money if your weight changes during or trip or if you happen to be pregnant. It will still remain flattering and stylish while adapting to your new size. And when you hop to one time zone to the next and spend months on the road, differences in weight tend to happen.
In my case, especially when I travel for work, I tend to lose a few kilos and have everything fit me less perfectly, to be a little euphemistic. So the idea of adaptable clothing that morphs to what your body looks like at various moments in time is just perfect. I also happen to be quite a messy traveler and optimal packing is not one of my skills. So the added benefit of a wrinkle resistant material and an easy to pack dress closes the deal for me.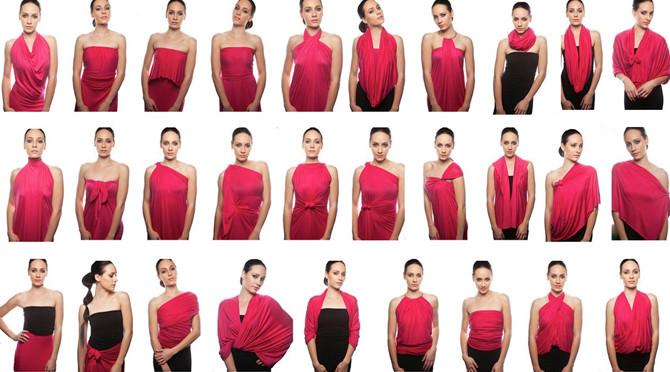 Once you have your own wrap dress, you can let your imagination fashion your next outfit. Or, if you're not the most creative in this particular field, you can use the Hipknoties free mobile app which gives you access to video that will show you what possibilities there are. These are step-by-step tutorials, so finding your way to your ideal outfit will be quite easy.
Clothes that are easy to pack, take little space, and are multipurpose and adaptable are perfect for travelers. These types of fashion concepts will save you time and money (I didn't mention the fees for extra luggage that would be easier to dodge with less to pack), and will make dressing up fun. So take a look at this innovative dress and decide if it suits your tastes and travel needs. Maybe you can even come up with your own idea of how to wear a wrap dress? Either way, enjoy your travels!
Brought to you by Hipknoties