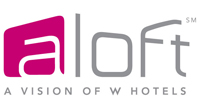 Starwood's Aloft® brand debuts in Cancun with a hotel located close to the CancunCenter, in the Hotel Zone, at walking distance from dining, shopping and nightlife places, Starwood Hotels & Resorts Worldwide and Promotora TIIM announced today. Aloft Cancun awaits its guests with 177 loft-like rooms with big windows and nine-foot ceilings, airy environments for the next generation of travelers targeted by this brand.
"Since its launch, Aloft has emerged as a popular choice among savvy business travelers. We are thrilled to launch the Aloft brand in Cancun, a renowned tourist destination as well as a prime business travel destination that is seeing increased demand in the meetings and conventions segment," said Osvaldo Librizzi, Co-President the Americas. "This opening is also an important step for Starwood as it marks our 25th hotel in Mexico and the entrance of our eighth brand in the country. Furthermore, it allows us to continue to build on the momentum of the Aloft brand in Latin America." 
Guests choosing Aloft Cancun will be able to enjoy the re:mixSM communal lobby area or at the w xyzSM bar and several other facilities such as a rooftop pool, the re:fuel café and the re:chargeSM gym. 6,500 square feet of banquet and meeting space were also included in the plans for this hotel for special events.
[adsense]
"We're delighted that Cancun will be the launching platform for the Aloft brand in Mexico, and we are excited to partner with Starwood in this project," said Mauricio Hamui Hilwani, owner and Director of Promotora TIIM. "Cancun continues to establish itself as an important convention and tourism hub, as demand increases from leisure and business travelers. As a result, it is the ideal location for Aloft – a brand that caters to both segments."
Aloft Bogota Airport was the first hotel in the brand's portfolio, opened in 2011, followed shortly by Aloft San Jose in Costa Rica. In the present moments there are eight Aloft branded hotels in operation or in development in the region, with Aloft Panama scheduled to be inaugurated in June. In 2014 will be open Aloft Merida and Aloft Guadalajara, while Aloft Asuncion and Aloft Montevideo are scheduled to launch in 2015.