Designed and developed by two ex-Microsoft employees, the newly launched Rome2Rio travel search engine identified a severe lack in online tourism search offerings – while a horde of sites compete to provide the best results and comparatives for airplane fares, no one thought to cover alternative means of transportation, such as ferry, bus or rail. The new travel site focuses on integrating these missing links in online travel planning and booking.
Also thinking of those who need to drive to their destination, Rome2Rio also integrates driving directions powered by Google Maps. Site users only need to type in their departure and arrival points and get multiple route results, several modes and travel times for each alternative offered. For example, if you want to get from Prague to Amsterdam, you type in the two cities and you'll get a few alternative routes, involving driving directions to the airport, a flight and a train ride taking you to Amsterdam's Central Station.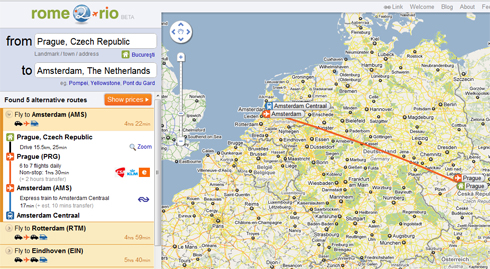 The site is still in Beta and it sounds like an amazing idea. But as it focuses on travel times as well, it focuses on the shortest routes. Therefore you only have a rail-only alternative for close locations. What the site needs, we believe, is an advanced search option that's easy to access and allows users to single out certain means of transportation. Maybe some travelers prefer a longer rail trip to flying.
At the moment, Rome2Rio aggregates flight data from 670 airlines; train information in Europe, India, and China. But according to Venture Beat, the site is going to expand and add more features:
"They want to build out the site by adding more data sources as well as new features like a "get me out of here!" option, or an app that lets users re-plan a trip on-the-fly when their flight has been canceled due to weather, disasters, or any other reason."
For a clearer view of how Rome2Rio works, here's a video introduction tour: