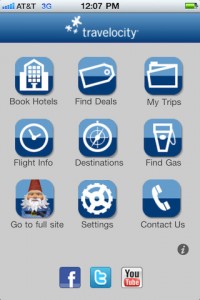 After discovering that most travelers (about 60 percent) using Travelocity's iPhone app to book hotels, do so on the same day as their stay, the travel company added more last minute deals to their mobile application through Top Secret Hotels. The newly introduced service features unpublished hotel rates up to 55% off Travelocity's normal rates. The new tool thus allows iPhone users to find last minute deals faster and easier.
"Whether on a road trip or going on a spontaneous getaway, lots of travelers are regularly making last-minute bookings on a mobile device," said Beth Murphy, Travelocity's Vice President of Product Marketing. "Top Secret Hotels for the iPhone helps these travelers find a great hotel deal, right when they need it."
The interesting detail of Top Secret Hotel is that you actually shop for hotels at incredibly low prices without actually knowing where you have booked your room until after completing the booking. That makes the added tool to Travelocity's iPhone App perfect for those who like surprises. If you don't, then we recommend the normal search to you.
Along with the newly added service, the travel company's iPhone application offers a lot of useful on-the-road travel information – gas stations nearby your current location, easy access to your Travelocity itineraries, updated details on flight status, security line wait times, local weather, seat maps, as well as traffic and airport driving directions. The mobile app can also be used to search through and book vacation packages that include flight and hotel accommodation.
Since its launch in 2008, Travelocity's iPhone app has been downloaded more than a million times. Have you used it? What is your opinion on their mobile services?