The autumn is fast approaching but that's no reason to put off your travel plans, particularly if you choice destination is the Spanish capital. That's because Madrid's latest new hotel, the four-star Petit Palace Lealtad Plaza Hotel, is set to welcome guests for one of Spain's most glorious seasons.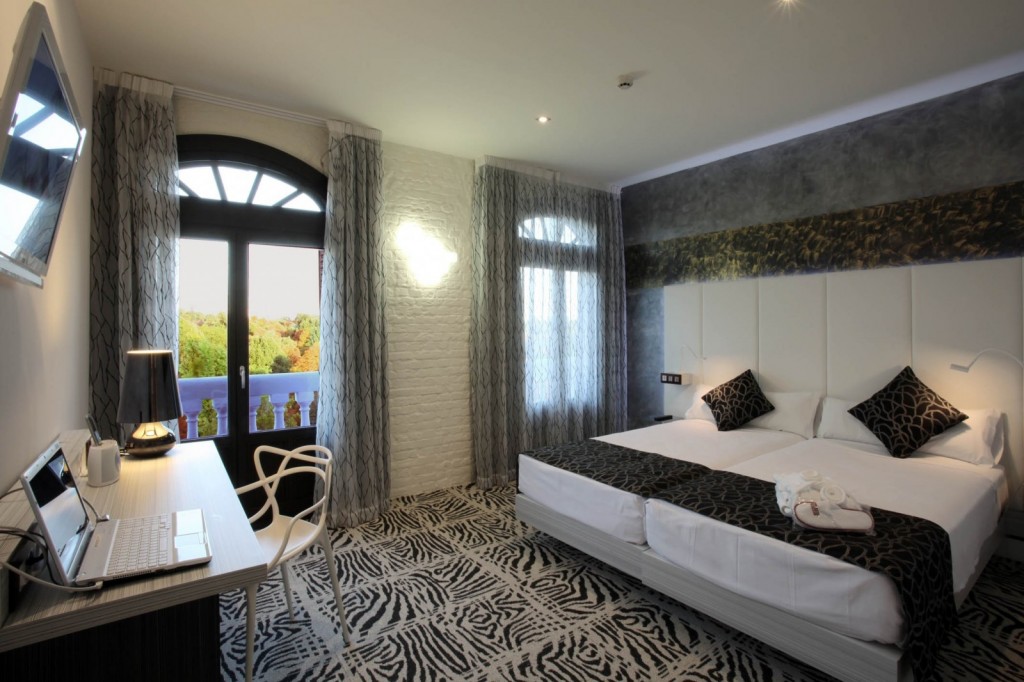 Designed to accommodate a mix of business and leisure travelers, right in the heart of Spain's most cosmopolitan city, the hi-tech Petit Palace Lealtad Plaza combines lavish, modern luxury with rich history and tradition in a way that few venues can match. The hotel is part of the HTGroup, which has luxury accommodations throughout Spain including; Barcelona, Seville and Valencia. Situated in one of the city's many historic buildings, Palace Lealtad Plaza is a four star affair boasting of exclusive, modern amenities, on top of period charm.
Throw in an enviable location in the heart of Madrid's central El Retiro district, close by major attractions such as the Museo del Prado, Madrid Stock Exchange and the Reina Sofia, and it's easy to see why tourists will be excited about this latest addition to the city's luxury hotel line up.
Despite the somewhat historic exterior of the Petit Palace Lealtad Plaza Hotel (it's housed in an epic, early 20th century building designed by the legendary Spanish architect José Urioste y Velada), appearances can be deceptive, for this is one of the most modern and sophisticated hotels yet to grace the Spanish capital.  The hotel boasts of every amenity a business traveler could ever want – including no less than three, 100-person capacity meeting rooms equipped with Wi-Fi internet access, video projectors and screen, and a necessarily "wired" knowhow by staff.
[adsense]
Then there's the rooms themselves; incredibly spacious, with a sleek and sophisticated interior décor that oozes comfort and security before you even get past the door. Amenities are first-class too, with large, flat-screen TVs, iPod docking stations, free Wi-Fi internet, and free tablets for every room upon request. Guests can choose from double, communicating or even XXL rooms, whilst disability-access rooms are also provided. Even pets are welcome, with kennel services provided for dogs.
All this, plus some of the most competitive prices that central Madrid has ever seen, with rooms starting at just €175.00 per person, per night! If ever you needed an excuse to book that last minute summer holiday, the Petit Palace Lealtad Plaza Hotel must surely be it. All in all, it looks like tourism in Madrid is looking up, up the façade of Petit Palace Lealtad Plaza, a beautiful new Spain hotel.
About the author
Phil Butler is editor-in-chief of Everything PR News, and senior partner at Pamil Visions PR. CEO of Argophilia the online travel development, and Co-Editor of Argophilia Travel News, Phil now enjoys engaging the world's travel sector with the vigor of a tech guru. He's a widely cited authority on beta startups, search engines and on public relations issues, and he has covered tech news since 2004.
Phil covered tech startups in the past for ReadWriteWeb, Mashable, Profy, SitePoint, Search Engine Journal, and AltSearchEngines, among the many other tech oulets. Phil enjoys a candid and warm relationship with many of the world's most sought after experts in technology.