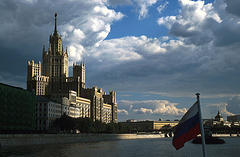 Research and Markets has announced the addition of a new travel industry product to their range, the Russia Tourism Report Q2 2011. The report analyses the evolution of tourism in the second quarter of the current year in relation to events from early 2011 and the evolution of this Russian industry after the decline registered in 2009.
The forecasts and competitive analysis of the Russian tourism industry targets industry professionals and strategists, corporate analysts, tourism associations, government departments and regulatory bodies that are interested in the country's travel and economic trends.
After a sharp fall in tourism arrivals of 10% year to year recorded in 2009, Russian tourism started a slowly increasing trend, with a 2% year to year growth in 2010. The trend will continue this year, with an estimated increase of 1% in tourism arrivals.
Most major Russian airlines have also posted positive results in 2010, some with exceptionally significant increases in number of passengers and total revenue, thus leading to favorable forecasts throughout 2011.
The biggest negative event that factors in the country's travel market is the alleged terrorist attack of January 2011, when it appears a suicide bomb attack took place at Moscow Domodedovo Airport, killing 35 people and injuring another 110. However, the effects of the incident have not been analyzed thoroughly as of yet.
[adsense]
According to the Research and Markets report, there is a chance for increased terrorist activity in Moscow and Russia in general, as recent efforts by the Kremlin to boost Russia's attractiveness to non-Russian investors, creating a new range of international targets for violent attacks. Regardless, Russian tourism will keep to its moderate increase, which will stretch from the remainder of the year to 2012. Yet foreign tourism isn't expected to grow sharply, as the Russian rouble is also gaining strength against the Euro and the US dollar.
Finland, Poland, the US and the UK remain the key markets outside the former Soviet Union that send travelers to Russia and the number of arrivals will continue to grow at a slow pace. The trend will also be supported by Russia's successful bid to host the football World Cup in 2018.
For more details on the report, please visit Research and Market's product page.