All corporate travel buyers negotiate contracts for their companies, no one takes the initial offer, shows a new survey bu AirPlus International, provider of corporate travel payment and analysis solutions. Their new survey of 100 corporate travel buyers has just been published in the March edition of their monthly report – The Wire…from Air plus, titled Corporate Travel Negotiation Practices.
While travel in general is up for negotiation, corporate buyers treat each travel service supplier category differently. They all negotiate for hotels, most do so for air flights or car rentals, but few take the time to also negotiate dining arrangements. A detailed overview can be found in the graph below.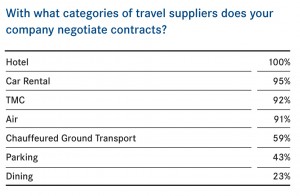 "A full 100 percent of respondents said their companies had negotiated agreements in place. To negotiate successfully, complete, accurate and reliable data is essential." said Richard Crum, President and CEO of AirPlus International, Inc.
The length of the negotiating contracts also depend on the type of travel services acquired. While multi-year contracts still dominate certain segments, most corporate buyers prefer yearly contracts for hotel accommodation. 6 month contracts are almost non existent for corporate buyers, but many prefer to only negotiate short term contracts, only when needed, a practice most probably preferred by those whose colleagues don't travel much, thus lacking the leverage and purchase power to get discounts for larger periods.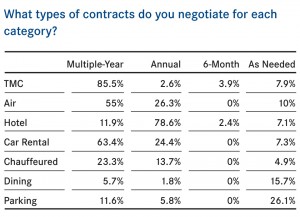 The survey was published in AirPlus monthly report analyzing the business travel industry. The March results were compiled after surveying 128 corporate travel professionals, of which 100 were buyers and 28 were suppliers, from both North America and Europe.