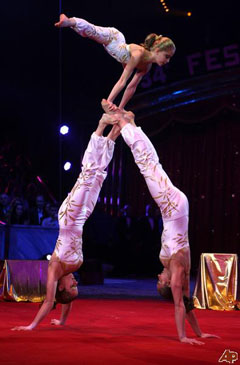 The traveling Monte Carlo circus and its team of renowned foreign acrobats, jugglers and clowns has performed in Basra, Iraq, the first in over four decades to perform here. This is a sign of improved security in the region. The people of Basra were delighted by clowns, a female animal trainer from Ukraine presenting an eclectic mix of chimpanzees, dogs, snakes and a porcupine and other exotic performances.
This is new and we've been waiting for something like this for a long time. We enjoyed it so much and I hope they come back often," said Muhanad Abdul-Wahab, a 50 year-old government engineer, who brought his children to see the show.
Violence has claimed Iraq since June 2006, and assaults and bombings by Sunni insurgents are still quite common, with a recent assault against a Catholic church that resulted in more than 100 casualties reminding of the shaky stability of the area.
Basra, situated at 420 km (260 miles) southeast of Baghdad is relatively safe now. The most fierce battles have taken place in 2008 when Prime Minister Nuri al-Maliki ordered the Iraqi army to gain control from Shi'ite militia and criminal gangs.
The name of Iraq used to scare the artists," said Suhail Ubaid, the Lebanese owner of the Monte Carlo circus.
After its performance in the semi-autonomous region of Iraqi Kurdistan, the circus has been invited to Basra.
At the beginning it was a difficult idea. After a long discussion, we managed to convince them to go to Basra, but they were so scared, imagining they would be kidnapped," Ubaid said.
The 32-person crew, which includes Spanish, Kenyan, Italian, Austrian, German, Russian and Ukrainian performers, has started to feel more at ease and even ventured out into the city.
The residents of Basra state that a circus has not been seen in their city since the 70's. Ahmed al-Hassani, Deputy Basra governor said he believed it had been 40 years since a circus has been seen in Basra.
The Monte Carlo circus will remain in Basra for 40 days. Tickets for a two hour show cost between $10 and $15.