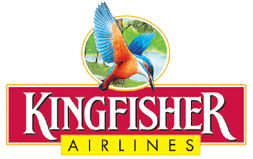 After 25 days of protes, employees of Kingfisher Airlines have agreed to pun and end to their strike and resume activity. As a result, the carrier's shares have been on a rising trend for two straight days, going up 5% today. While this sounds like good news, it in no way means the Indian airline is out of trouble.
Kingfisher Airlines has a lot of debt and also has had its licence suspended last week. They are however planning to use their own funds in an attempt to resume flying,  as the Directorate General of Civil Aviation (DGCA) stated today, following the carrier's persuasion of their striking staff to return to work. He also added that Kingfisher would need approval for a revival plan from those they owe money to, including fuel companies and airport operators.
[adsense]
The airline controlled by liquor baron Vijay Mallya has ceased flying at the beginning of October following an employee protest that turned violent. The cause of the strike was the fact workers had not been paid since March 2012. To top it all, last weekend the DGCA suspended their licence over safety concerns.
"He (the regulator) said that the DGCA would like to get satisfied that all major stakeholders like airport operators, oil companies, MRO (maintenance and repair organisations), AAI (Airports Authority of India) are taken on board for supporting the airline's revival plan," the DGCA said in a statement after a meeting with Kingfisher CEO Sanjay Aggarwal. "The CEO further informed that at present, the source of funding for the airline will be through their own resources," the DGCA statement said.
As of yet, Kingfisher, formerly the second largest airline in India, has failed to file a proper revival plan.