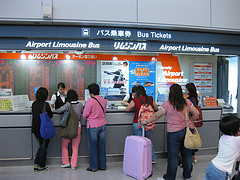 The recent tragic events in Japan have taken their toll on the nation's main air carrier. Japan Air decided to cut international flights as the earthquake and subsequent nuclear crisis at Fukushima have lead to a 25% decrease in the airline's international customers. To adjust to the drop, Japan air will reduce flights from Tokyo Narita to China, South Korea and Hawaii starting on April 6th.
All flights from Narita to Hong Kong have been dropped, while Japan Air reduced flights to Beijing to seven per week (a 50% cut) and those to Honolulu to 14 a week. Japan Air also reduced the number of flights to Shanghai, Seoul, Pusan and Taipei but plans to keep flying to Hong Kong from the secondary Tokyo Haneda airport. The air carrier plans to maintain this crisis flight schedule until April 27th.
Japan Air has to also tackle a significant decrease in domestic flights which have dropped 28% since March 11, due to the earthquake itself and the following fears of radiation leaks from the Fukushima nuclear power plant.
Japan Air is not the only company who decided to cut flights originating in Tokyo. Singapore Airlines has announced similar cuts, and Qantas Airways' budget airline Jetstar moved part of its services to Osaka.