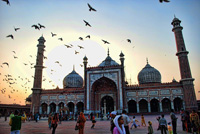 You certainly should rethink it if it includes a trip to New Delhi! Following the shooting on Sunday that resulted in two Chinese men being wounded in New Delhi, the US, UK and Australia have issued travel advisories for their nationals currently in India against possibly new terrorist attacks.
The attack on Sunday took place near the historical Jama Masjid mosque, a very popular attraction among foreign tourists. According to the Joint Commissioner of Police Jarnail Singh, "unidentified persons fired at the duo near gate number three of the historic mosque at 11:30 a.m.. They have been admitted to a local hospital where they are said to be out of danger. " The two men were shot after a tour of the mosque, just before boarding a tour bus.
In their advisory, the Australian embassy announced a high risk of following terrorist attacks in New Delhi. The US and British embassies were more moderate in their statements, urging nationals to be cautious about possible attacks.
If you are traveling to India, a little more caution is advised and if your schedule is flexible, try postponing your trip to New Delhi. Even if there are no more attacks, the city will still be crawling with law enforcement representatives which might diminish an otherwise colorful touristic experience.