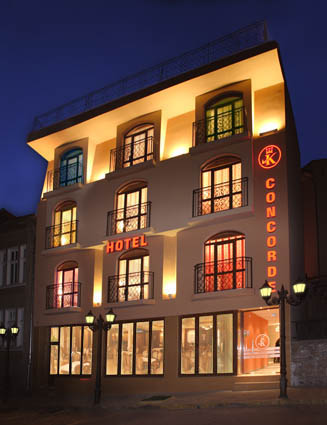 As getting to Bulgaria is extremely easy for those of use fortunate enough to be living in Bucharest, a lot of the short gettaways I have been on included a place in Bulgaria. Their lovely beaches when I was in mood for a few relaxing days spent sunbathing and diving into the Black Sea, and Veliko Turnovo when I was in the mood for a mountain top sceneray.
Every time I go to Veliko Tarnovo, I stay at Hotel Concorde. I felt so great the first time I stayed there, I just did not feel the need to try another one! Only a few minutes away from the colorful center with the town hall, purring bikes, great looking cars and delicious ice-cream that I never seem to have enough of, Hotel Concorde is a chic and small venue, with only 18 rooms, all extremely big and all looking chic, a restaurant, a bar on the top floor where you can enjoy an amazing view, conference rooms and a small and intimate breakfast room.
If you're like me and just can't breathe without an Internet connection, don't worry, they have both wireless and wired Internet, all free, but the wireless might play a few tricks from you if you stray from the lobby.
The rooms, especially the three VIP ones, are perfect for romantic gettaway. Bold colors, sparkling wine, great decorations and a jacuzzi, let's just say it's enough to keep you inside for a long time! If you get hungry, you can go downstairs to the hotel restaurant or take a 5 to 10 minutes walk and try out one of the many restaurants in Veliko. Main street tarraces, hidden treasures on narrow streets with artisans seeling souvenirs, wherever you choose to eat the portions are huge! Make sure to ignore anyone else eating around you, allowing yourself to get distracted by what they are having usually leads to ordering way too much!
Hotel Concorde has great personnel! They are friendly, they all speak English and they are always doing their best to help. So are the hotel partners – we've enjoyed a great chat with the guy who takes hotel guests on helicopter tours of the city!
Try to avoid dropping in without a reservation, especially during summer! You might get lucky, but it's safer to book at least a week in advance!
P.S. The room photos I chose are of the ones I actually stayed in and I can wholeheartedly say that, in real life, they look better than the pictures.