After a 35 million euro restoration aimed to restore the hotel's original grandeur, The Gritti Palace, a Luxury Collection Hotel in Venice reopens, the Luxury Collection Hotels & Resorts, part of Starwood Hotels & Resorts Worldwide, announced today. This renovation is part of Starwood's larger strategy that involves investing over 150 million Euros in the restoration of Luxury Collection hotels in Europe, such as Hotel Alfonso XIII, Seville and Hotel Maria Cristina, and even San Sebastian – which re-opened last year, as well as Prince de Galles in Paris which will re-open later this month.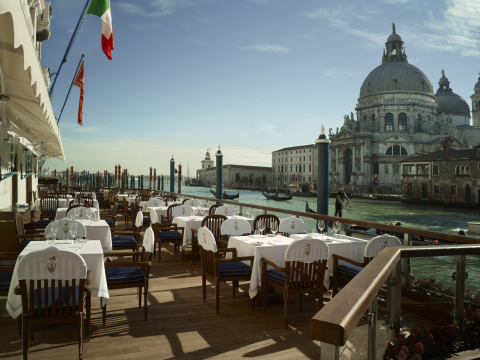 "There is a mystique about The Gritti Palace that has enchanted its guests for generations, so it was essential that we involved local artisans, architects, craftsmen and cultural institutions to preserve its authentic elegance and distinct personality, while bringing the landmark hotel into the 21st century," said Paul James, Global Brand Leader, The Luxury Collection, St. Regis and W Hotels Worldwide. "The renaissance of this Venetian icon marks a momentous occasion for The Luxury Collection as the birthplace of the brand, now 85 hotels around the world, which has come full circle to restore its roots on the Grand Canal."

"As part of Starwood's strategy to further strengthen The Luxury Collection brand portfolio, we have made major investments to restore some of our most iconic hotels," comments Roeland Vos, President, Starwood Hotels & Resorts, Europe, Africa and Middle East. "The restoration of the majestic Gritti Palace reinforces our commitment to providing global explorers the chance to discover this incredible destination with the exceptional service and style they have come to expect from The Luxury Collection."
[adsense]
After this complete restoration, The Gritti Palace features 61 luxurious guest rooms and 21 sumptuous suites, including suites with lovely canal views. The interior design of signature suites is inspired by renowned personalities like Ernest Hemingway, Somerset Maugham and Peggy Guggenheim, or by locations such as Punta della Dogana.
The hotel features the unique Redentore Terrazza Suite which spans 76 square meters and includes an intimate reception room, a spacious bedroom, a living room with dining area, and a spectacular rooftop terrace measuring 250 square metres, including a spa pool, relaxing facilities and opportunity to admire the view.
"By carefully restoring precious antique furniture and artwork, and complementing them with a selection of newly handcrafted furnishings, we aimed to enhance the exclusive residential ambience that has kept The Gritti Palace so unique and personal to its loyal guests through the years," says Chuck Chewning, Design Director, Donghia Associates. "We have seamlessly integrated Donghia's and Rubelli's signature sophistication with the hotel's history and heritage, giving it a sense of Venetian elegance and timeless luxury."
The Gritti Palace received the Gothic appearance from the Pisani family in 1475 and became the private residence of the Doge of Venice, Andrea Gritti, in 1525. Later on, the hotel became home to other noble families and illustrious visitors until 1895, when it was transformed into a luxury hotel, bought in 1947 by CIGA (Compagnia Italiana Grandi Alberghi.