Emotional Support Animals, also known as ESAs, are designed for people with mental illness such as depression, bipolar disorder, PTSD, anxiety, and autism. Their steady, comforting presence can act as a source of support for people in distress. Although not requiring specialized training or treatment, an ESA can alleviate the symptoms of their owners by simply being there.
The good thing about ESAs is that it can be a breeze traveling with them. Now, flying with your emotional support animal is a lot easier than you can imagine thanks to several recommendations made by USA-based airline companies and the Air Carrier Access Act. Although there are just a few matters that you need to comply to ensure that traveling with your furry friend will be smooth-sailing.
We'll discuss the essential things that you need to know when traveling with your Emotional Support Animal to ensure you will have a stress-free flight:
Prepare your Documentation
Note that airline carriers such as United, Delta, and American airlines require necessary documentation. So prepare everything at least 48 hours before your trip, including a written note from a licensed medical professional citing psychological and mental disability that requires you to bring the animal during the duration of your flight. This simple document explains your mental and emotional status to have access to an ESA.
It's crucial to keep this letter with you at all times whether it be traveling or speaking to a potential landlord and should be renewed every year. Otherwise, you could be denied to your rights to fly or rent a place with your animal.
Note that Delta further requires certification about the animal's health, as well as DPT vaccinations and verification of rabies.
International flights have different rules about ESAs, too. New Zealand only accepts arriving dogs as service animals, and not emotional support animals. Japan needs notification for quarantine at least 40 days before arrival. In the United Kingdom, on the other hand, you need to notify them at least a week before the arrival of your pet in the islands.
Call your Airline in Advance
So you have all the necessary documentation, and you've met all the guidelines. You're ready to go, right?
Well, not so fast.
Each and every air carrier has their own airline pet policy. It is highly recommended that you call the airline carrier in advance to ensure that your pet will make it to the flight. According to the order of the Department of Transportation, if your animal makes other plane passengers and the crew uncomfortable, they have the right to refuse it from flying.
Ensure that your Pet Behaves
Bouncing, biting, and barking are just a few surefire ways that your ESA won't make it on board with you. Also if they display threatening behaviors that can be a threat to the crew and other passengers on board such as snapping, growling and lunging.
So if your pet appears to be rowdy and annoying, most airline carriers have the right to refuse you and your animal from boarding the plane. As a rule, it cannot annoy nor endanger the people around you, and shouldn't damage airline property either.
Avoid Traveling With Exotic Animals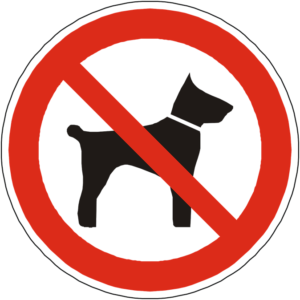 Most airlines do not accommodate animals if they're deemed too unusual. The Department of Transportation doesn't allow airlines to accept spiders, rodents, and ferrets on board.
Be aware that not all airline carriers have the same list of banned animals. For example, Delta wouldn't accept pets with hooves or tusks, non-household birds, possums, and hedgehogs. United won't carry these animals previously stated, as well as exotic animals that carry a foul odor or isn't cleaned properly.
Excessively Large Animals is Restricted
Airlines may ban animals heavy and large animals from flying.  Also, the Department of Transportation orders explicitly that these creatures shouldn't block aisles and emergency exits.
Southwest Airlines wouldn't allow animals near seats, so they either have to sit on the floor or your lap. Meanwhile, United orders passengers that their pet should sit on their feet.
Traveling with your Emotional Support Animal
If you want to bring your ESA with you during your travels, although it is often free of charge, you have to comply with the necessary paperwork and documentation so that you can bring your pet on board. Exact size restrictions for animals may vary depending on the airline carrier, so it's best to give the airline a call ahead of time to clarify specific paperwork and restrictions.
Moreover, you must present a letter (which should be less than a year old) from a licensed medical professional stating your condition and why is there a need to bring your pet along.
If you are in a fragile mental and emotional state, you can certainly bring your ESA. However, it is your responsibility as the owner to look out for the animal's well-being, as well as the people around you.