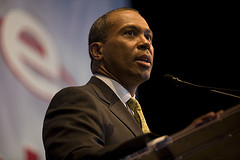 Governor Deval Patrick, guest speaker at a Massachusetts Office of Travel and Tourism conference which took place on Wednesday said that a rush of movies featuring Bay State locations and a recovering economy are the main reasons behind the late rise in the Massachusetts tourism industry.
"All told, tourists add about $14 billion to our economy each year," Patrick told tourism officials from across the state. "We are committed to supporting and advancing this huge sector of our economy, just as we are focused on securing Massachusetts' leadership in the innovation industries, in health care and in education."
According to Patrick movies like "The Fighter" and "The Social Network" have refreshed peoples interest in the state. Three more Hollywood movies are being shot in Massachusetts this year. Mark Wahlberg flick "Ted" and Kevin James' "Here Comes the Boom" have begun shooting here. Also a new Adam Sandler movie is rumored to be on the way.
Sponsor programs in England, Germany, France, Italy, Japan and Ireland aimed at increasing tourism in Massachusetts are also helping.
"Our relatively small state now ranks sixth in the nation for attracting international tourists," Patrick said.
The state's main historic locations, from the Red Sox and Tanglewood to Cape Cod and Boston, are also quite popular among local and foreign tourists.
The Governor supports using all the state's key touristic hot spots to boost local and international trips here, as he sees a thriving tourism sector as powerful driver for Massachusetts' economic rebound.