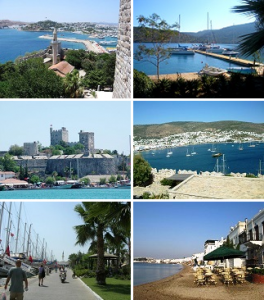 As I was telling you a few days ago, I am sort of courting Bodrum for my next beach vacation. If you've been keeping up with this blog, then you know I love Turkey with a passion. I've been to Istanbul three times and I've also spent three weeks in Oludeniz, my longest ever beach holiday.
This year, I am planning on an equally long vacay enjoying the fun and sun, but if you're wondering why Bodrum holidays are suddenly so appealing to me, I have to say there are quite a few reasons. The thing about vacationing in Turkey, no matter where you go, is that you get a mix of all these different and exquisite flavors. The beautiful Mediterranean, lush beaches, great service, the taste bud spoiling Turkish cuisine, history, art, and tons of activities for the more active tourists. 
Why I am so interested in Bodrum, as their southern coastline is peppered with amazing resorts? Well, it all starts with an old boyfriend who's told me so many stories about this place, it just piqued my interest. You can't listen to a starry-eyed person, big smile plastered on their face, telling you how wonderful it was, and not want to see it for yourself!
The next big reason, Bodrum is significantly closer than my beloved Oludeniz. About 250 kilometers closer. Keeping in mind it's driving along the coast line and through numerous resorts, that's at least four hours of driving I will not have to put myself through. As this crazy person drover from Bucharest to Oludeniz in pretty much one go (that was close to 28 hours on the road, me being the only driver), whatever driving time I can get, I will take it. I am aware there are other ways to travel to Turkey, driving there has just become a habit I don't much want to shake.
I also want to explore more of Turkey, so why not Bodrum, I've been dreaming of it for years. I get part of what I am used to and love, plus the added pleasure of discovering a new destination. Bodrum, like many other Turkish breach resorts, has it all: water sports, museums, beautiful beaches, great restaurants, especially if you're into sea food, historical landmarks, day cruises, a lively night life. There are belly dancers, did I mention the belly dancers? I have to mention them. Also, as any Tarkan fan would now, Turkish boys make for exquisite eye candy.
Wondering what to do in Bodrum? Well, aside from the beaches, the cruise boats, the water sports, and the partying, there is something for everyone. The medieval Castle of St. Peter is a must, along with the Museum of Underwater Archeology that it hosts. Don't miss the French Tower while visiting the castle.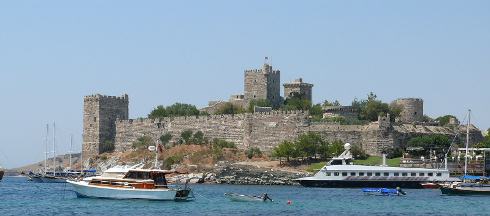 Another big thing to add to your list is the Mausoleum in Halicarnassus, one of the Seven Wonders of the Ancient World. The newly restored remains of the Myndos Gate are also a must. If you're into ships and their history, the restored Ottoman shipyard is definitely right up you alley. The shipyard's tower is also perfect for families traveling to Bodrum, it's basically a children's playground, although it occasionally hosts art shows.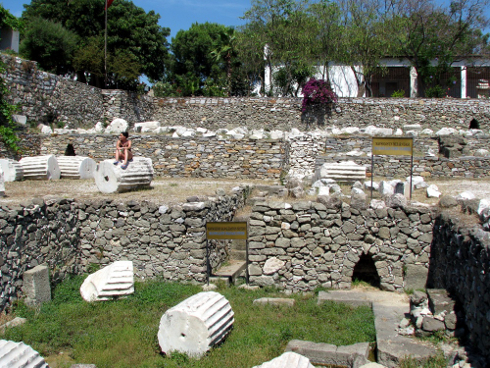 If you want to keep up with your active lifestyle but water sports are not your thing, there are tennis and golf clubs to check out. the city of Izmir is also within driving distance, if you want to try something that feels more like a big city.
So, now that I've tempted you, who's going  with me? I am planning for a late August, early September trip!