It's no great secret that New Yorkers like their coffee and they like it good and hot. So if you're visiting the Big Apple you simply have to sample a cup of good old American Joe. You can't buy great coffee from just any place though — every shop with the name café after it can sell you a cup, but to make sure you're getting the best in town head to one of these extra special coffee houses. In this guest post, from New York travel guide publishers NewYork101, we explore 5 great places to go for coffee in NYC. Get caffeinated!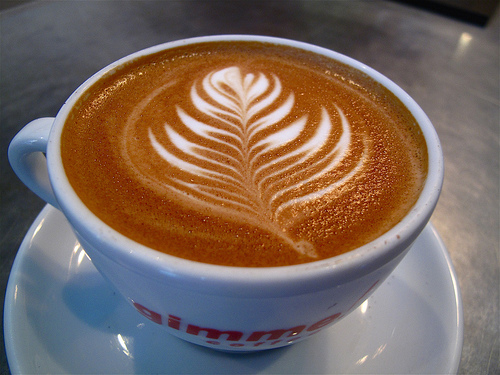 Photo source
Café Grumpy
I can honestly say that when you're at Café Grumpy you will never be grumpy! Why? They make what is perhaps the best latte you will ever taste, they make the best iced coffee you will ever taste, but most of all there is a no laptops policy! There is nothing worse than walking into a coffee shop to see each table being used by a pretentious laptop owner. Here you are safe from all that and the friendly and welcoming service will drive you to come back again and again.
Photo source
Café Grumpy can be found in the neighborhood of Chelsea on 224 West 20th Street, just between 7th Avenue & 8th Avenue.
Kaffe 1668
For a place with interior décor that's absolutely gorgeous but not too distracting, more than enough couches and tables for you to relax inside without ending up with a coffee to go and of course a blend of great tasting coffee, make sure you head to Kaffee 1668! With a great depth of flavour to your espresso, great service and that coffee shop smell that has you hooked the moment you walk in, you will absolutely love Kaffee 1668.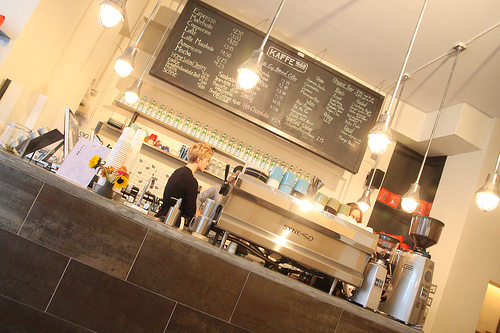 Photo source
This nice little coffee gem can be found in Tribecca, across the road from a Barnes and Nobles bookstore on Greenwich Street.
[adsense]
Java Joe
Specialising in both coffee and tea, you'll easily find the perfect blend here as it's stacked full of all the different types of coffee beans. They also do very tasty little chocolate treats to have with your freshly brewed and out of this world coffee. As it's a family run joint, it has that homely atmosphere to it and the staff are always really nice and welcoming.
Java Joe can be found in Brooklyn in the area of Park Slope on 414 8th Street.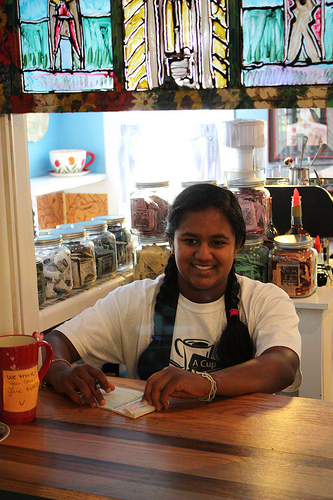 Photo source
Stumptown Coffee Roasters
Though it is safely tucked away in the lobby of the ACE Hotel, once you find it you'll find yourself coming back again and again! With beautiful lattes and pastries to die for, it's a place you can easily fall in love with. I recommend ordering the fried dough. It's basically pastry which has been beautifully fried in none other than bacon fat and then to top it off it has been drenched in maple syrup. They also offer a rewards card so if you end up returning on a frequent basis (which I assure you will do) then you'll up snagging yourself a free coffee!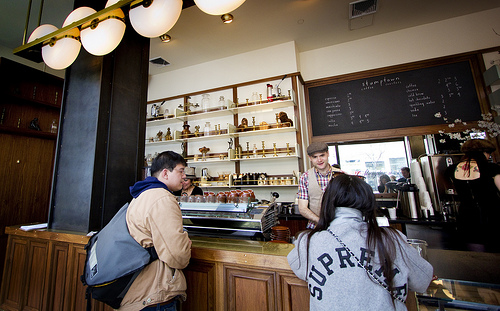 Photo source
As I mentioned earlier, Stumptown Coffee Roasters is found in the lobby of the Ace Hotel which is located in West Midtown on 18 West 29th Street.
Gimme! Coffee
If you like your mocha java consistently good with a taste of chocolate that's just right then you'll love Gimme! Coffee. The best mocha javas in town as well as a chilled atmosphere and decent music in the background, it's the perfect place to relax and catch up with a friend.
Photo source
Gimme! Coffee can be found in the north side of Williamsburg on 495 Lorimer Street, just between Grand Street & Powers Street.
This post was written by ex-New York resident and writer, Melvin, who works for New York 101, publishers of the free New York travel guide.