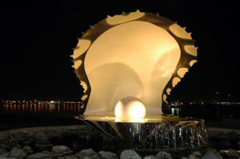 A new 48-hour leisure layover hub for long-haul flights is being promoted by Qatar, as part of its effort to develop heritage tourism. "Experience Qatar in 48 hours — our business is your pleasure" is the name of the new campaign that has been promoted in London at the World Travel Market by the Qatar Tourism Authority.
"We organize itineraries for many groups that travel between the UK and Asia on the way from London to Singapore, Hong Kong, or Australia," said Val Rozario, operations manager of Take Flight Travel.In UK, we find that many know Qatar as a nation prosperous in oil and gas, but they are learning about Qatar as a travel destination."
"Our 48 hours campaign targets passengers on long-haul flights between Europe and Asia enticing them to transit and stop over in Doha, as well as inspiring business visitors in Doha to extend their stay," said Soha Moussa, Qatar Tourism Authority head of promotions and organizing, "as we meet with UK travel professionals to tell them what Qatar has to offer for the first time."
Doha, the fast-moving capital of Qatar, is one of the top destination for business travelers and combines one of the world's most vibrant economies with a rich background of culture and history.
Qatar's tourism is on rapid growing trend. To accommodate the increasing demand of both business and leisure tourists, Qatar will increase hotel capacity from the existing 7,000 luxury rooms to over 29,000 by 2012. To make the country more attractive, the government allotted 15 billion US dollar for the next 5 years, funds that will support the construction of luxury hotels, resorts and other leisure facilities.