The results of a new survey conducted by TripAdvisor confirms offering WiFi Internet Access it the hotel amenity travelers are most impressed by and most often require.  This first 360 degree survey released its findings after probing the opinions of 1,200 tourists and 600 hotel owners and managers in the USA. 88% of travelers said they expect to have free WiFi internet access at their hotel and any other type of lodging. Owners and managers seem to know their guests well, as 93% of surveyed hotels report they offer some sort of free WiFi access to Internet to their customers.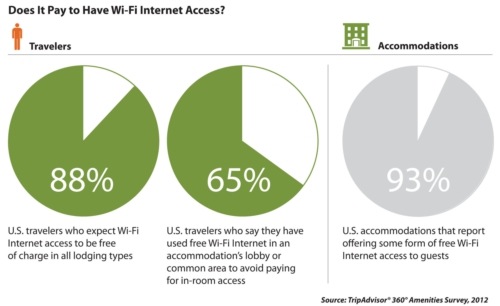 Similar findings were released by Hotels.com earlier in January, stating free WiFi is the top aspect considered by travelers in their hotel booking decisions. Most people now travel with several gadgets with WiFi capabilities and expect to take advantage of them during their hotel stays. 
U.S. Travelers Top Hotel Amenities according to TripAdvisor survey
WiFi Internet Access
Breakfast included in booking
Guest loyalty points
Restaurant in the hotel
Shuttle service to take them to nearby airports or attractions
[adsense]
Hotel owners  and managers have managed to get most of their top amenities right, but they still place more importance on restaurants than their guest, while they should focus more on their loyalty programs and the points they offer for stays.
"While accommodations generally appear to be in sync with most traveler amenity preferences, our first-ever 360 degree survey reveals that there are a number of opportunities for lodging businesses to shift the focus from some services to others to capture travelers' attention," said Christine Petersen, president of TripAdvisor for Business. "For example, offering complimentary or discounted tickets, recommendations or even a shuttle service to local attractions or a nearby airport may help tip the balance in a property's favor, especially when you consider that more than half of travelers say they've canceled a reservation because they found better amenities elsewhere."
U.S. Travelers Obsolete Hotel Amenities according to TripAdvisor survey
Turndown service
Pets allowed
Spa
Tours and other activities
Room service
Not Just WiFi, but Free Access
The vast majority of travelers expect their WiFi access to be free of charge and a little under half or survey respondents said they never paid for this amenity. In their search for free access, 65% said they have used free Wi-Fi Internet in an accommodation's lobby or common areas to avoid paying for in-room access.
Hotel managers and owners should pay close attention to their guests preference for certain amenities, as more than half of surveyed travelers have canceled their reservations because they have found better amenities elsewhere.