Prague is one of the European cities you'd definitely think of when dreaming of a romantic getaway. The history-rich buildings, the sun shining over the Vltava river, the chariot rides through the city and the romantic cafes are perfect to please the eyes of loving couples. Right on time for Valentine's Day, the fusion Hotel in Prague has redesigned three rooms into "special spaces for romance.'
The three themed room, Love fusion, Rock fusion and The Vintage Room, are actually the hotel's gift to its guests and itself for its first year anniversary. But the 24 hours breakfast, the vintage décor, the suggestion of love and rock music, these romantic perks make the new rooms perfect for a memorable Valentine's Day celebration in Prague.
[adsense]
Positioning itself as 'Cheap-Chic' or 'Budget-Boutique', fusion Hotel Prague features unique interior design, cool yet practical at the same time. The three new spacious rooms feature detail oriented ornaments, such as bedside tables from crates and a headboard made of 100-year-old floor planks (The Vintage Room), or vinyl packaging for the walls of the Rock Room. And because all true romantics love breathtaking views, the rooms also come with large exposed windows to allow guests to take in the view of Prague's old city center.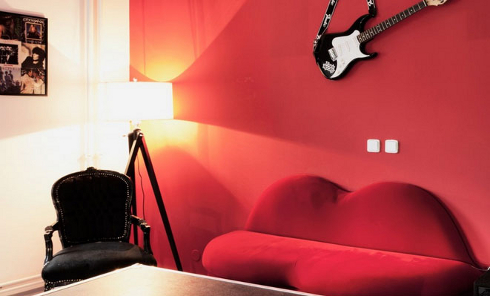 fusion Hotel appeals from everyone from backpackers and budget travelers to the posh wanderers with a taste for style. It takes pride in housing the only rotating bar in Europe, a unique Czech gastro bar, Epopey, and a Shisha-smoking room. If you're as addicted to all things online and social as the Travel Tweaks team is, you'll be glad to hear there's also free WiFi in the entire hotel, as well as free guest PCs, plus a Skype.