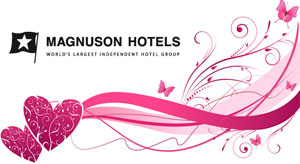 We all want to spend a special Valentine's Day with our loved ones. And if we can get a romantic getaway that's also free, we do love it even more! Manguson Hotels, the largest independent hotel group in the world, which includes over 2,000 hotels in the UK and the US, is giving you the chance of winning a free Valentine's stay at four of their venues in the USA. The good news is that if you don't really want to travel exactly on Valentine's Day and you'd prefer to postpone the romantic trip for the weekend, you can! If you win the free 2 night stay at one of the four hotels organizing sweepstakes, you can plan your trip anytime between February 14 and March 4, 2012.
To win the free hotel stay for you and your loved one, along with complimentary champagne and chocolate, all you have to do is to visit Magnuson Hotels on Facebook, enter the sweepstakes of your choice and describe how they imagine the perfect Valentine's Day. Here is where you get to stay if you happen to win:
Valentine's at Magnuson Hotel Salt Lake, a venue located in Midvale and quite close to Salt Lake City. It is perfect for couples that love skiing, not just each other, as it's very close to the Alta Ski Area, Snowbird Ski Area, Solitude Ski Area, and Brighton Ski Area.
Magnuson Hotel Baton Rouge, an intimate getaway in Louisiana, is also close to plenty of traveler's favorite attractions: River Center Baton Rouge, Louisiana State Capitol Welcome Center, Louisiana State University, Port of Greater Baton Rouge, LSU Tiger Stadium, Maravich Assembly Center and the Mississippi River.
Magnuson Hotel Port Allen is another great choice to spend a romantic Valentine's Day, and it also gives you a chance to enjoy the Mississippi River, Baton Rouge River Event Center, Belle Baton Rouge Casino, Magnolia Mound Plantation House, Mall of Louisiana and Blue Bayou Waterpark.
The fourth hotel where you can win a free stay for Valentine's is Magnuson Grand Hotel South Bend. You will find it right in the heart of South Bend and right near the South Bend Symphony, College Football Hall of Fame, South Bend Chocolate Company, and South Bend Mishawaka Company.
Candlelight dinner, a romantic room just for the two of you, sports or leisure walks, everything you could think of for Valentine's Day can be experienced at these four Magnuson Hotels venues. Enter the sweepstakes and let us know if you win!