An increasingly popular way to holiday in Turkey is onboard a gulet cruise. Gulets are a traditional Turkish seafaring vessel used by fisherman and sponge divers for centuries. They provide a uniquely luxurious way to explore the breathtaking Turkish coast, with various routes available from a range of major Turkish ports, including Marmaris, Bodrum, Gocek and Fethive. If you're looking for affordable deals to one of these Turkish cities then check the Thomas Cook site for the latest cheap holidays Turkey has to offer.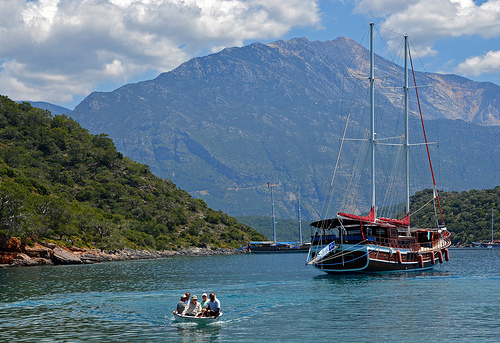 Photo source
Usually handcrafted in Bodrum, and made entirely from pine wood, gulets come in all sizes, from cosy 3-4 cabin capacity to larger vessels which can accommodate 9 people or more. All come equipped with traditional sails as well as oars and onboard motors. All gulets are wonderfully spacious with onboard WC and shower facilities, while brand new models now come equipped with a telephones, DVD players and televisions. All gulets feature breathtakingly large deck areas, perfect for dining onboard or sunbathing under the Turkish sun.
You can choose to holiday onboard a gulet privately by chartering a vessel. This is a great option for couples looking for a private romantic Turkish getaway, with only your captain and private chef onboard with you. Private charters are also perfect for group travel, allowing you and your friends and family a unique and private holiday experience away from the tourist throng. A cheaper alternative is to opt for a cabin charter where you pay for a room onboard, sharing with fellow holidaymakers — a great way to make new friends!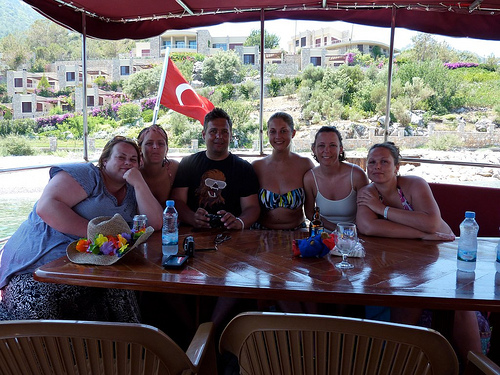 Photo source
As for routes around Turkey, you can choose from organised tours, which are often themed. Learn all about Lycian history with cruises that take in the historic splendour of Marmaris, Dalyan, Gocek and Fethiye or explore the Hisaronu Gulf with tours from Marmaris to Rhodes, Simi, Datca and Bozburun. Private charters offer you even more flexibility, as you're free to design your own unique route, stopping off at as many islands and coastal cities and villages as you wish.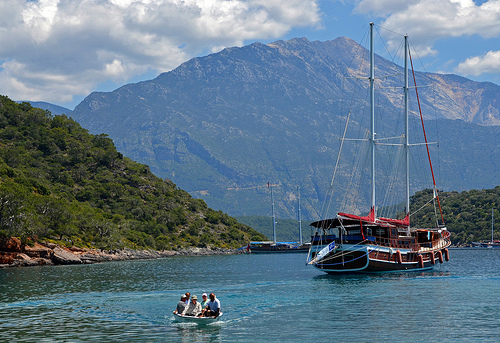 Photo source
Gulet cruises allow you to explore the coast of Turkey and the Greek Islands as the ancient Romans and Greeks once did. Whichever route you choose you'll find endless sites of historic significance, Lycian ruins to explore, scuba diving and snorkelling opportunities at every turn and wealth of secluded beaches and bays far from the well-trodden tourist path.