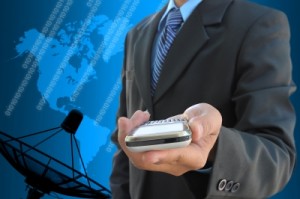 When it comes to technology on the move, business travelers are certainly setting the bar quite high! According to a new survey carried out by Four Points by Sheraton Hotels, business travelers carry 3 or 4 mobile devices while they travel, use video chat as the most frequent way to call home from their hotel rooms and show a preference to tablets over laptops.
The survey commissioned by Starwood's brand queried 6,000 business travelers from 6 countries, 1,000 from each. The target markets polled were the United Kingdom, Germany, United States, China, India and Brazil. As the results show, more than of all business travelers carry 3-4 mobile devices when they are on the road, a third of Brazilians going even further, with 5 or 6 such gadgets. Germans, on the other hand, are those who rely the least on mobile devices while they travel for business. 
Of the devices brought along for the ride, smartphones are clearly the big favorites, with 74% of business travelers carrying one. They are followed by tablets (65%), music players (43%) and laptops (32%). Not only do businessmen love their smartphones, they are quite desperate to turn them on as soon as possible, some being all for breaking the rules just to stay connected - 54% turn on their smartphone while the plane is still taxiing on the tarmac, while 12% never turn them off during their flight.
[adsense]
When it comes to the first thing business travelers do when they wake up in their hotel room, smartphones are again the big winners -Â 36% check them, only 19% turn on the TV, 18% take a shower, 12% check their Facebook account, and 7% call home.
Almost all business travelers state they bring their mobile devices with them to keep up with email. In slightly lower numbers, they browse the Internet and social media sites or stay in touch with their offices.
Another interesting finding is that most business travelers think of mobile devices as a way of making their lives easier on the road. UK businessmen are those most taken with this benefit of their gadget while Germans are the least impressed.
The survey is not really a surprise, as most travelers are becoming highly dependent on mobile devices. They might not go as far as traveling with more than 5 mobile devices, but I for one certainly travel with my laptop, smartphone and music player! What about you?
Photo source -Â FreeDigitalPhotos.net