New York City is one of the most exhilarating cities on the planet. There is never any problem finding something interesting and exciting to do. The city is huge, with millions of people who call it home. Different areas within the city are unique in their own right. Among them is what is colloquially known as The Crossroads of the World, Times Square. It is brightly lit and offers a seemingly unlimited opportunity for you to be entertained around-the-clock. Following are a few things to do in Times Square.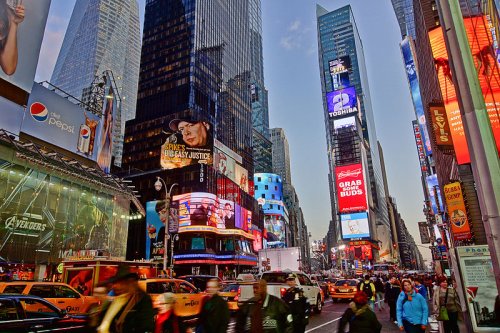 photo source
Celebrate New Year's Eve
Among the most well known events in the world is the celebration of New Year's Eve in Times Square. This extravaganza began in 1904, the same year New York City's first subway line opened. The original event celebrated the opening of the offices of the New York Times, from which Times Square acquired its name. Times Square is the place to see 'the ball' drop at exactly midnight, ushering in the New Year.
Play At Toys R Us
If you're looking for something to keep the kids happy, there may be no better place to do it than the Times Square Toys R Us. This huge store has life-size Lego sculptures as well as intricately detailed replicas of Manhattan skyscrapers. No ordinary store, the Times Square Toys R Us, has a Ferris wheel located inside the store. Once you buy a ticket, your kids could be riding the Ferris wheel with any number of characters, such as E.T. or a Cabbage Patch Kid.
Be a Part of Television
Times Square is home to a variety of television productions. Among them are the much-watched daily news and information shows, Good Morning America and the Today Show. Saturday Night Live is also produced in Times Square. The daytime shows usually include shots of the crowd that traditionally gathers outside the studio while they're on the air. They frequently show crowd scenes, giving you the opportunity to say 'hi' to the folks back home.
Stay At a Luxury Hotel
While planning that once-in-a-lifetime vacation, you may want to include a stay at a world famous luxury hotel located in Times Square. This could be your opportunity to hobnob with celebrities and decision makers from around the globe. A stay at a luxury hotel in Times Square will give you the opportunity to be within walking distance of some of the best entertainment in the city, as well as being pampered in your own luxury suite.
Take In a Broadway Show
Would any trip to Time Square be complete without taking in a Broadway Show? Known throughout the world as the place where the finest plays, starring the finest actors, takes place, Broadway is at the absolute pinnacle when it comes to world-class entertainment. Be sure and get your tickets well in advance, because seeing a Broadway play is popular not only among visitors to the city, but to full-time residents as well–it's one of the perks of living in New York City.
Visit Madame Tussauds Wax Museum
Even though there are an almost unlimited number of things to see and do in Times Square, no visit to the area would be complete without a stop at Madame Tussauds Wax Museum. There are well over 200 full-size wax figures that you can see close up, and have your picture taken with. There are numerous wax replicas of politicians from the past and present, as well as celebrities and pop icons famous throughout the world. There is also a live, interactive 'scare' exhibit, as well as 4D and 3D theaters.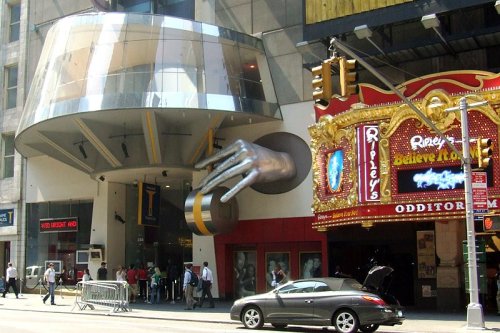 photo source
Ripley's Believe It Or Not! New York Is a Unique Adventure
Another feature of Times Square that is a bit out of the ordinary is Ripley's Believe It Or Not! New York. It is a museum dedicated to the weird and absurd. It is Times Square's version of Ripley's museums that offer you the chance to see unique and bizarre entertainers, such as the collection of sword swallowers at the entrance to the museum. Ripley's Believe It Or Not! New York contains more than 20,000 unusual photographs as well as 30,000 artifacts that are a tribute to the odd and curious.
Guest post from Riley Finnigan. Riley writes for Creditscore.net.