Tag: Palaces of Istanbul
3 October 2012 The fabled city of the sultans, modern Istanbul, is one of the wonders of the world. As the Turkish road system has improved dramatically in recent years this has now ...
read more
15 December 2009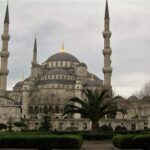 Istanbul, the city of two continents, the place where Europe and Asia are entwined. It's grand, surprising, full of flavor and color. Istanbul a must see destination for any serious ...
read more