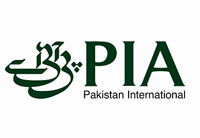 Employees of Pakistan International Airlines (PIA), including pilots, flight crew and ground staff, have gone on strike, paralyzing Pakistani air traffic and leaving thousands of tourists stranded. The strike was called as a protest against recent firings of employees because of their alleged opposition to a code-sharing agreement that PIA is considering with Turkish Airlines. The strikers are also against the agreement with the Turkish carrier and are demanding the reinstatement of the fired workers, as well as the PIA's managing director, Aijaz Haroon.
"The strike continues, and it will continue until [Haroon, who is an airline pilot and reportedly a close friend of Pakistan's President Asif Ali Zardari] goes," Uzair Khan, joint secretary of the Pakistan Airline Pilots' Association (PALPA), told Reuters.
The agreement with Turkish Airlines, which is still subject to government and regulatory approval, PIA is to give up some of its most profitable European and U.S. routes, including flights to Germany, Spain, Italy, France, Holland, Chicago and New York. A joint action committee of PIA employees warned that such a decision would cause a loss of billions of rupees in revenue and threaten jobs at PIA.
"Over the past three years, the managing director of the airline has failed to deliver and he must now go," said Sohail Baluch, the chief of PALPA, told Reuters. "We demand of the government to scrap whatever deal the PIA is planning with Turkish Airlines and dismiss the [managing director], and replace him with a professional person."
As a result of the strike, dozens of flights have been canceled and reportedly scuffles between the strikers and PIA management took place at airports in Karachi and other cities. Also, some pilots and crew have been prevented from getting on aircraft.
The strikes comes at a time when PIA is affected by declining profits, rising debts, mismanagement, and competition from airlines in the Persian Gulf. In the third quarter of 2010, Â PIA reported losses of 4.79 billion rupees ($56-million) — it's third straight quarter of losses. A month later the air carrier asked the government write off losses and debt of about $1.7 billion to save it from bankruptcy. The request was denied due to the strict terms of a loan from the International Monetary Fund.