As you have probably guessed by now, I am all for taking charge of your vacation and planning it just as you want it to be. Being able to do it requires a few things: good knowledge of what's available where you're going, from hotels to places to visit to good restaurants, reliable advice from people who have been there before and a well thought plan that allows you to both experience everything you want, rest and have fun.
The new public beta release of social trip planner Stay.com gives you all that information: spots to check out on 50 major cities around the world, recommended guides created by Stay's travel experts, a community to discuss your trip and to share your advice with, personalized travel guides you create from scratch with all the relevant data you need, from opening hours to maps and pictures of the place.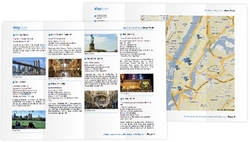 You can use Stay.com as your planning advisor: research hotel rates, book your stay online, then decide how to better fill your time at the destination of choice. To get a better idea of what you can get, here's an example of a featured city, San Francisco. You can search through the tourist attractions yourself and use the available templates or start with one of their featured guides submitted by Stay members: one for active travelers, one for those traveling with kids and needing to entertain them, or maybe a special one featuring the San Francisco bay area is better for you.
All in all, Stay.com is a great and much needed tool for those taking the DIY approach to travel planning. Hope you enjoy it as much as I did when reviewing the services they provide 🙂 Oh, and when you start using them, please let me know what you think!
More info on TechCrunch, ReadWriteWeb or PRWeb.