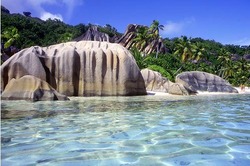 Allbestbeaches.com, the newly launched online beach travel guide by Modernights, offers tourist information on 1000 beaches in the world, deemed the best by their group of travel writers. The sites offers details such as beach's location, climate and amenities, providing several browsing options for its users, who can access a few beach sections defined by continent, region or type of beach (white sand beaches). To make the experience a visual one, each site section comes with beach photos.
What's interesting is the website's live web cam broadcasts from some of the beaches it features, helping travelers-to-be the opportunity of getting as close as possible to a first hand experience before they actually go. Allbestbeaches.com is now broadcasting from La Puntilla beach in the Dominican Republic. The online beach guide also selects the "Best Beach of the Year," title that this year has been awarded to is Whitehaven Beach in Queensland, Australia. And we're about done with the positive aspects…
While officially launched, allbestbeaches.com is not yet fully functional. Its developers promise however that it will include a public voting portal where users can upload their beach reviews.
We do hope the future versions improve the user experience a lot. Right now, to get to browse through the different beaches, you have to scroll down a lot, move past descriptions and long texts and get to category links. There is no top, right or left navigation, the site developers pray visitors are curious enough to scroll down and see what it's all about, if they don't get tired of the ads and texts first.
Once you access one of the categories, things are a bit simpler. The top navigation lists continents and regions and you can then select the particular country you're interested in from within the page. They however forgot to add the "White Sand Beaches" category, so you have to return to the homepage to access it. To do so, click on the annoyingly animated symbol near the logo.
The design itself is not impressive, it looks like something made by a trainee designer in a couple of hours and rushed to the developers to turn it into code. The only strength of the site is its clear focus on beach trips and relevant information. But if any serious travel site launches a beach category, they're most likely going to fail.  Allbestbeaches.com developers have no idea what usability or user-friendly mean and the way their site is built proves it.
Since the idea is a good one, I hope they match it with an easy to use, intuitive website to support their online travel guide idea…
Photo from official press release